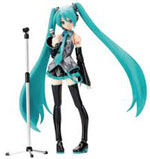 You can ask every teacher I ever had at school. They rarely saw me getting quiet without knowing something to say.
One of this rare moments was when I followed a link Miguel Guerra posted on his Facebook page a while ago.
The idea of a virtual singer projected as a hologram on stage immediately reminded me on the movie Simone with Al Pacino. But what I saw much more stunning than this movie.
---