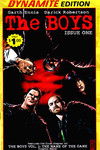 In the meantime you know that there are so many different ways to do your comic book coloring as there are comic book artists.
When I'm not producing tutorials myself I'm always on the prowl for other useful stuff to broaden my horizon and to have a different look on the subject.
Lately I found this very valuable video tutorials by Tony Avina the colorist of the comic book series The Boys.
---