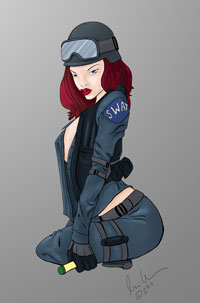 While taking a day or five off from drawing for my graphic novel I wanted to try something different.
Duh, you drew a girl. That's not quite different from what you draw otherwise you might think.
I know, what I did different wasn't the subject, though I didn't draw a SWAT Girl earlier.
This time I tried to add some line weight during the inking process to give the drawing a little more depth. In the end I can't say if it worked out like it was supposed to be. (Probably the line weight is losing some weight during the coloring process.)
The reason for this might be that if you draw on paper you don't have the possibility to zoom in and out. As I drew digitally I did zoom in and out.
---