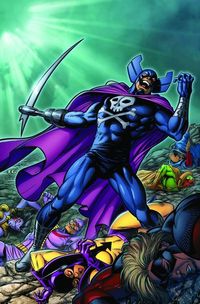 Who else should should Marvel's greatest heroes follow if not Hercules, god of the superheroes from the old ancient Greek mythology?
Crossovers are hot and they are not restricted to the CSI Team from Las Vegas introducing the New York team, what led us finally to the team of Miami what was introduced by the New Yorkers.
No, crossovers are hot in every genre, also in the comic world. Think of the crossover from Witchblade to The Darkness for example.
Hercules is leading Marvel's greatest heroes against a mad god who seeks to destroy reality itself. The Chaos King has amassed his army of alien slave gods, and he's launching an attack on Earth! Can Hercules stand against the Marvel Universe's greatest threat?
It will be a challenge for this Chaos King as his opponents are X-Men, Thor, Dead Avengers and it doesn't stops here.
Lay your hands on all of this adventures by clicking here.
---