The following photograph of Sharon and Dirk was one that I considered a rejection during the…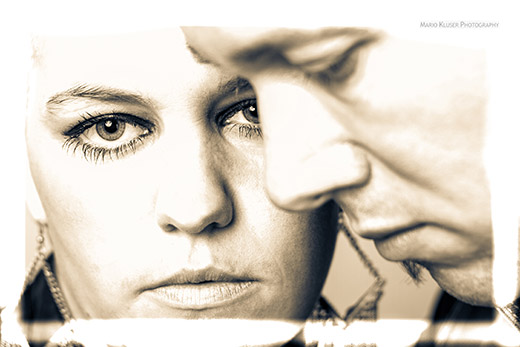 …editorial process a couple of days after the shoot. The reason for this was that I had a couple of this kind of shots with a better framing. But there was something to it that prevented me from deleting the image, though I didn't know at that time in what direction I wanted to go in post process.
Eleven month later I gave it another look. Sometimes photographs have to mature just like a good wine. I came to the conclusion that even though the other variations of this shot all had the better framing, none of them had nearly the intensity in Sharon's eyes as this photograph had.
There was just one big issue and that was the other reason for rejection back then: the exposure was way off. Weird enough this fact added to the image. So in the end I took some time and decided that it would work best as split tone image.
Now the print will find its way into the entrance of my studio.
Do you have any imagery that has matured like a good wine? Let us know in the comment section below.
Related Posts