Having an actor in the frame makes an image of a sculpture like this more…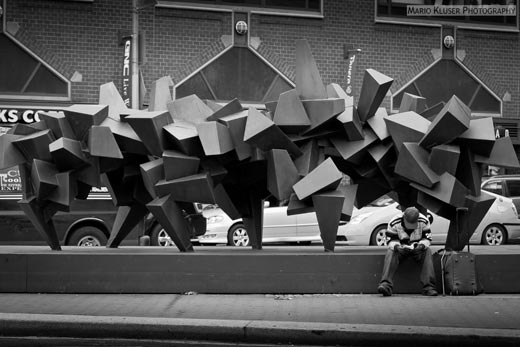 Click on the image for a larger version
… interesting. It's like the salt in the soup as the old Chinese saying goes.
This is not just because I'm very people minded, it just works better. This is probably a good tip on street photography. If you see for example an interesting staircase for a nice architectural photograph take a shot of it. Then wait for an actor and take another one.
Here are some technical data of this shot for you:
Camera: Canon EOS 7D
Lens: Sigma 70-200 2.8
Shutter Speed: 1/320 of a second
Aperture: f4.0
Focal Length: 70mm
ISO Speed: 800
If you want to participate in the photo of the day here on the blog (and you want that) have a look how to do so by clicking here.
Related Posts