This woman on Union Square made her point very clear. She was buy the way…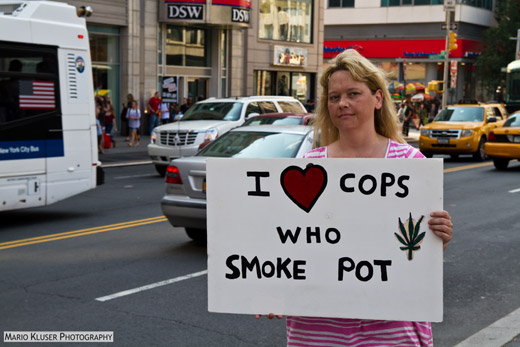 Click on the image for a larger version
… also the subject of the photo the young lady took (#100) before I shot her.
Anyway, when I told her that Dutch cops actually smoke pot she was kind of surprised. Of course this was just a guess, but I'm pretty sure there are cops in the Netherlands who smoke weed from time to time.
Here are some technical data of this shot for you:
Camera: Canon EOS 7D
Lens: Sigma 17-50 2.8
Shutter Speed: 1/160 of a second
Aperture: f5.6
Focal Length: 45mm
ISO Speed: 100
If you want to participate in the photo of the day here on the blog (and you want that) have a look how to do so by clicking here.
Related Posts