When you walk on Time Square it is very likely that you…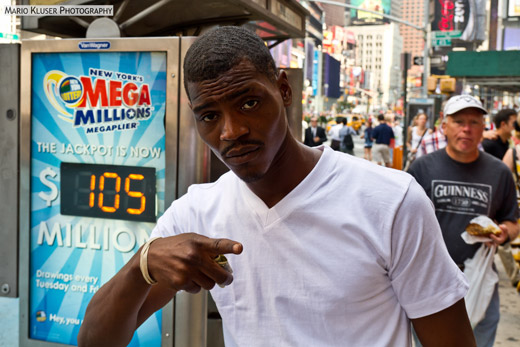 Click on the image for a larger version
… run into a musician, in most cases a rapper, who will offer you a freshly burned CD with his own music on in.
I met this guy and he handed me one of his CD's and told me that he wanted to be on MTV one day. I could give him whatever amount of cash my heart was feeling.
After a little, nice chat my heart still didn't feel much for buying music I've never had the chance to listen to. So I decided to give his career a start in the sense of catering. I gave him some cash for a hot dog and after a hug I went on with my street photography journey that I've planned for this day.
Of course I took this picture of him before I left. I also had to promise him that once he was on TV I could thank him by charging $300,- for a shoot instead of $1000,- (this were his words, not mine).
Here are some technical data of this shot for you:
Camera: Canon EOS 7D
Lens: Sigma 17-50 2.8
Shutter Speed: 1/80 of a second
Aperture: f5.6
Focal Length: 26mm
ISO Speed: 100
If you want to participate in the photo of the day here on the blog (and you want that) have a look how to do so by clicking here.
Related Posts