By pure incident we came across an old-timer show and as we were…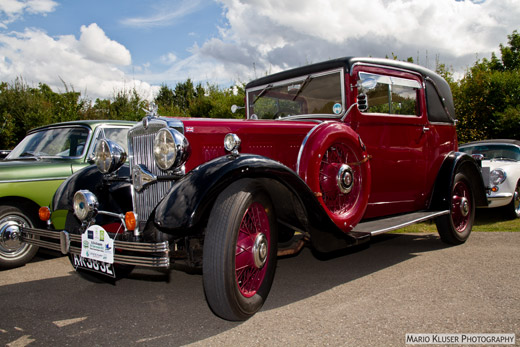 Click on the image for a larger version
packed with camera gear there was no way out. We had to shoot some of this amazing old cars.
Though we hadn't much time for this I wanted to have some decent images. After a few shots I didn't like the light circumstances. It was a bright and sunny day and of course if I had the exposure spot on for the car the sky would been totally blown out.
I knew I could solve this with flash so I did this. As there was nobody around to hold my flash for me, so that I could shoot off-camera I decided to go the easy way with on-camera flash in ETTL mode.
It worked pretty well. The ETTL did quite a good job here. I have to say that I love this picture even though I find the cars surrounding my main subject a little disturbing. But this is what I got and there was no way that the car would have been separated from the others just for me having a better composition.
Sometimes you just have to take what it's there.
Here are some technical data of this shot for you:
Camera: Canon EOS 7D
Lens: Sigma 17-50 2.8
Speedlight: Canon 580 EX II
Shutter Speed: 1/250 of a second
Aperture: f8.0
Focal Length: 20mm
ISO Speed: 100
If you want to participate in the photo of the day here on the blog (and you want that) have a look how to do so by clicking here.
Related Posts