Think about editorial shots sometimes.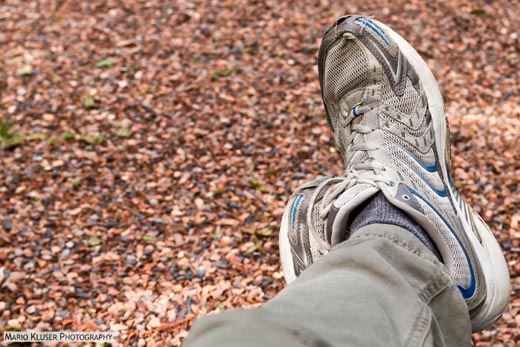 Click on the image for a larger version
I'm not exactly sure if you call them that way but it makes sense. Someone told me You can make nice photographs of everything, even just a pair of shoes.
This were the words I thought of when I took an image of my damaged sneakers after a photo walk. I left enough empty space so that this photo could be used for a spread page (for example). There is enough room for text.
I think this was when I was wondering if I should create an eBook about a certain photographic theme.
Anyway, if you photograph things like that and you have difficulties to do it in a way that makes sense for you, think how you can take it in a context that it is usable in a editorial way (still not sure if I give the baby the right name).
Here are some technical data of this shot for you:
Camera: Canon EOS 7D
Lens: Sigma 17-50 2.8
Shutter Speed: 1/80 of a second
Aperture: f5.6
Focal Length: 50mm
ISO Speed: 100
If you want to participate in the photo of the day here on the blog (and you want that) have a look how to do so by clicking here.
Related Posts