No, this is not a photo of the day, in fact it is just a quick shot I took…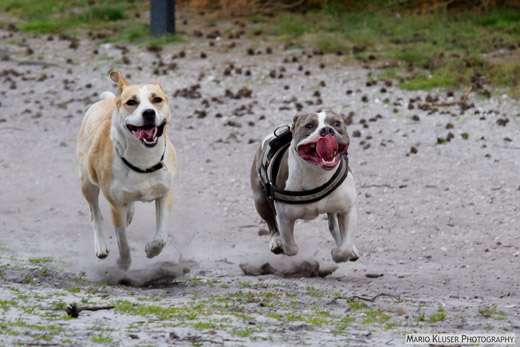 Click on the image for a larger version
…today when I decided to take my camera with me whilst letting Daisy run in the nature park.
When she met her friend Denzil there was no holding back for the two and they started running and rough housing. You can see that Denzil is a very powerful dog. The right partner for Daisy when it comes to playing.
I totally understand that some people would get a little bit nervous if they would see this two mates running in their direction. But it's just the wind that makes Denzil's jaw look a little bit dangerous though.
They are just two dogs enjoying the moment. The only thing you have to take care of is that they don't run into you as they can be quite awkward. If they run into you, you really will be knocked off of your feed.
I was by the way quite surprised that this images works quite well even though the shutter speed was just 1/500 of a second.
Have a great weekend, make sure that you take more photographs than snapshots (at least if you're serious about it) and most importantly: have fun.
Just like this two dogs!
Related Posts