New born animals are always fun to watch. When a friend recently came back…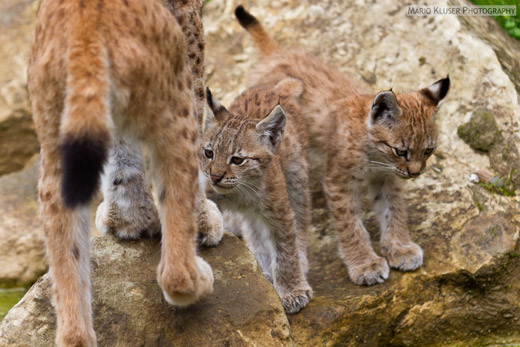 Click on the image for a larger version
…from the zoo, telling that he tried to get a shot of the lynx cubs but it wasn't possible because of the glass I thought wait a minute.
To proof that it is possible I took this image in the weekend. No reflection of the glass at all. I see many people struggling with this. They got massive reflections or firing a flash right into the glass and in fact make a nice picture of the flash's reflection.
It's very easy to prevent all this. Just bump you lens onto the glass. Not to hard of course and make sure you have a lens hood on it. If there is still any reflection just cover the area where light spills in with you hand or ask for assistance with this.
Then take your reflection free shot. Just as easy as that.
Here are some technical data of this shot for you:
Camera: Canon EOS 7D
Lens: Sigma 70-200 2.8
Shutter Speed: 1/400 of a second
Aperture: f4.0
Focal Length: 135mm
ISO Speed: 200
If you want to participate in the photo of the day series her on this blog feel free to send in a link to your image using the
contact form. Please provide your name, camera settings and title of the photograph. If your photo is picked we will schedule it very soon.
If you live in the USA and want to try lenses and gear before buying consider borrowing it by mail.
Related Posts