Todays photo has something funny to it in some different ways, as there are…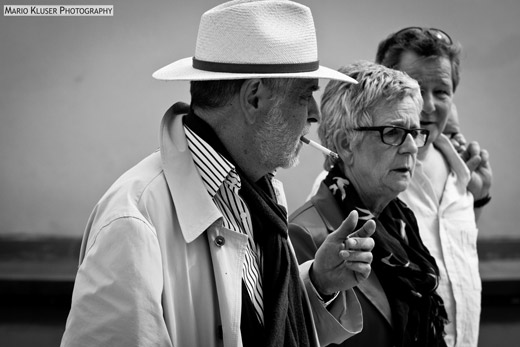 Click on the image for a larger version
It's a piece of our street photography journey and during the selection process I considered it a rejection. My second thought was: what the heck, it's street photography and if the framing isn't that great remember it's street photography. Thus I kept it.
When Pedro saw me taking that picture he said: This is funny, you just took an image of one of my neighbors. Seemingly his neighbor had the same idea as we had when we decided to go to Germany on a sunny Sunday afternoon.
A week later Pedro mentioned to his neighbor that he is on-line.
Another week later his neighbor had a look at this image over and over again and he really likes the moment that is captured here. Finally he asked for the high-res-image that I of course provided to him in an instant.
Here are some technical data of this shot for you:
Camera: Canon EOS 7D
Lens: Sigma 70-200 2.8
Shutter Speed: 1/1600 of a second
Aperture: f5.6
Focal Length: 70mm
ISO Speed: 400
If you want to participate in the photo of the day series her on this blog feel free to send in a link to your image using the
contact form. Please provide your name, camera settings and title of the photograph. If your photo is picked we will schedule it very soon.
If you live in the USA and want to try lenses and gear before buying consider borrowing it by mail.
Related Posts