Submissive wolves are licking the teeth of their leader. This is what happening in this photograph called (obviously) Honor The Leader.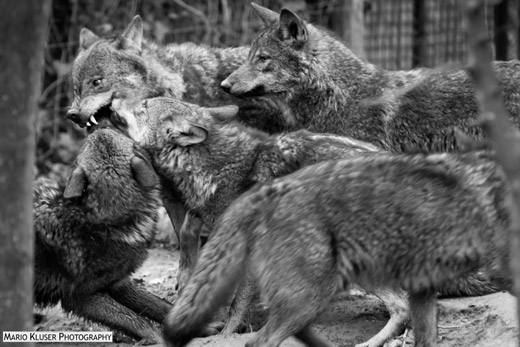 Click on the image for a larger version
You have to be very patient to get a shot like this, is what I hear often from people who are browsing through my animal pictures. My typical answer is yes and no.
You see, you can patiently wait on the side line until something like this happen. This doesn't mean that it will happen. In fact it's more like being at the right time at the right spot.
Nonetheless, patience is a very important ingredient for shooting animals.
What still wonders me when I look at this picture is that many people like it as due to the low shutter speed and not using a flash nothing of the action is really frozen.
Here are some technical data of this shot for you:
Camera: Canon EOS 7D 
Lens: Sigma 70-200 2.8
Shutter Speed: 1/160 of a second
Aperture: f4
Focal Length: 200mm
ISO Speed: 1250
If you want to participate in the photo of the day series her on this blog feel free to send in a link to your image using the
contact form. Please provide your name, camera settings and title of the photograph. If your photo is picked we will schedule it very soon.
If you live in the USA and want to try lenses and gear before buying consider borrowing it by mail.
Related Posts