Hogwarts was the first thing that came up in my mind when this trio was passing by with the carnivals parade. I had to take a candid of them but had to wait for the right moment.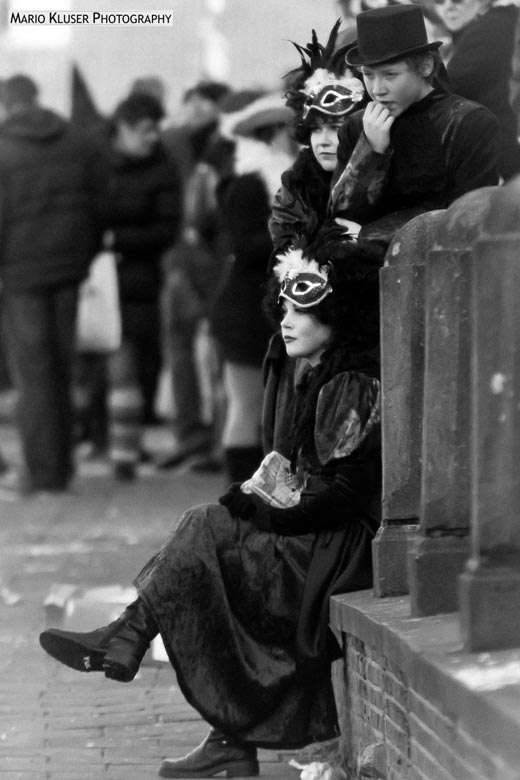 Click on the image for a larger version
Or better said: the best moment possible. Alas, this moment occurred when they were very far away. I took some photo's (also when they were right in front of me) but I found this one to be the best of the set.
They took a rest for a moment to enjoy the parade from the sideline.  This is why I call this photo Rest In Between The Madness.
As you can see below I shot at very high shutter speed what urged me to bump the ISO relatively high even though it was a bright and sunny day.
This was before I became flash addicted after learning all I know about lighting from Zack Arias.
I knew from the beginning that this would be a black and white. In post processing I cropped as I had to get rid of a lantern right in front of the sitting girl and I also added (believe it or not) some grain to it for a more old fashioned feel.
Here are some technical data of this shot for you:
Camera: Canon EOS 7D
Lens: Sigma 70-200 2.8
Shutter Speed: 1/8000 of a second
Aperture: f2.8
Focal Length: 200mm
ISO Speed: 3200
If you want to participate in the photo of the day series her on this blog feel free to send in a link to your image using the
contact form. Please provide your name, camera settings and title of the photograph. If your photo is picked we will schedule it very soon.
If you live in the USA and want to try lenses and gear before buying consider borrowing it by mail.
Related Posts