I learned that doing a self portrait can be pretty exhausting. Another thing I learned is that modeling really can be hard work. It's not just standing around being photographed.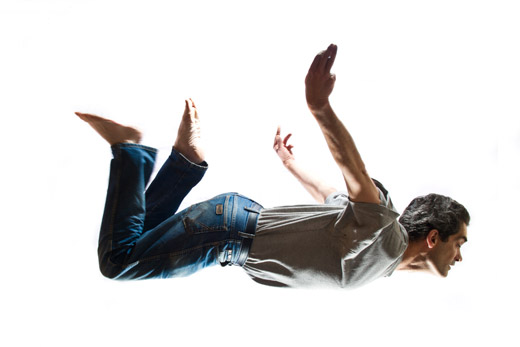 Doing a shot like the one above all by yourself takes a while but it's fun to do.
It took me 44 jumps trying to have the exact timing when the shutter will release. I really thought that it was an easy one. Now I know better.
I was using a white backdrop that I totally over exposed with two naked studio strobes that where pointed directly onto the background. One studio strobe with a soft box was directed in a 45 degree angle on me.
When I'm working with studio strobes I like work in full manual mode. On the camera and on the strobes of course.
This were the settings on my Canon 7D:
Aperture: F11
Shutter speed: 1/200 (I guess 1/250 would have taken a way a little more of the motion blur)
ISO: 100
Focal length: 25mm on my Sigma 17-50 2.8
The strobes where set as follows:
2 strobes on the background with full power and without umbrella's or soft boxes.
1 strobe pointing on me by 45 degrees and the power was set to 1/4
Related Posts