Last week my friend Pedro invited me to a challenge on a cold, humid and foggy Sunday afternoon: taking pictures at the Military cemetary Henri Chapelle in Belgium. So I grabbed my Canon EOS 7D and finally switched from my 70-200 2.8 to the nifty-fifty lens also known as 50 1.8.
I can tell you that it's quite challenging indeed to take photo's there. Even though this place is very impressive and the bad weather gave the whole thing a kind of an extra dimension. It just fitted quite well to the overall atmosphere. 
From all the shots I've taken there are three I want to share with you.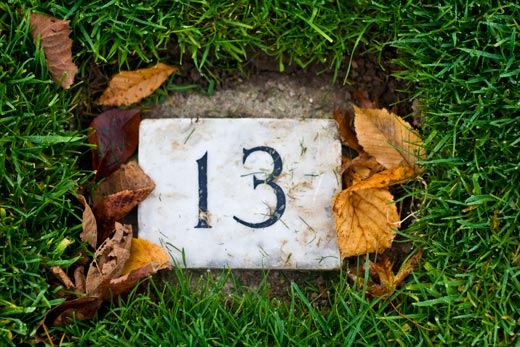 One of the first thing that caught my eyes was this stone embedded in the lawn that represents the rows of the graves, I guess. It wasn't the coincidental number thirteen but more the combination of the vivid colors of leaves, lawn and stone.
I took this one with an aperture of 2.8 but I guess 3.5 or even 5.6 would have done the job a little better as the shallow depth of field wasn't really necessary or better said didn't add some extra to the overall image.
As you know, most of the time you make this considerations after you arrived at home and uploaded your images to your computer.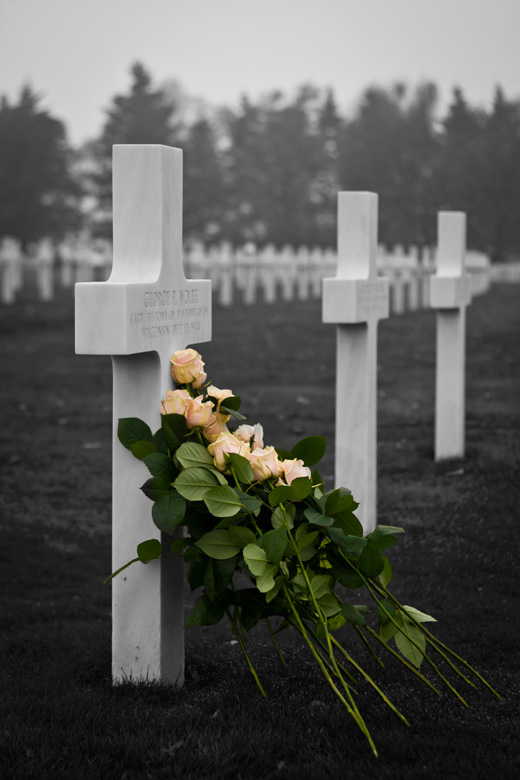 The second one above was taken with an aperture of 2.5 and I have to admit that I didn't plan to edit it that way in the first place. The reason for this is that I thing turning an image into black and white and leaving a subject in color is a little bit overdone lately. In this case, though, I found it quite an interesting thing to do as it's like the love and respect of the presence is embracing the long gone hero.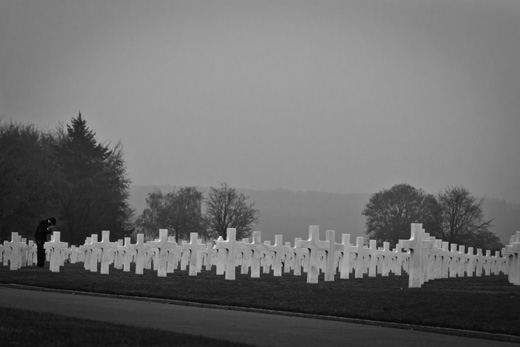 The third and last one above is in my opinion the most interesting one, though it was tough to get it right. Probably because of the weather there was nearly nobody on the graveyard and suddenly we heard this man on the right hand side praying at one of the many graves.
One of our first thought was that this would be a great opportunity for a great candid shot. This, of course, would've make it necessary to get much closer. You understand that out of respect we decided to keep the distance and don't interrupt the praying person. So I had to do it with this shot, that I took at an aperture of 2.8. Because of the far distance I had to crop to get some distracting things out of the image and get the framing right. You can see a larger version of this image in the video on top of this article.
Related Posts