Before the very eye of the amazed public a gorilla baby was born in our local zoo. Of course Murphy's Law was at work and at that moment my friend Pedro and I were on the other end of the park.
When we tried to get to the gorilla habitat we discovered that suddenly an event had started and the way to most parts of the zoo were closed due to a marathon.
Sounds crazy? Yes, it is crazy. Luckily we have our membership cards, otherwise I would have demanded that they give me my bleeping money back.
But enough rant. Yesterday we went out determined to get a peek at the baby.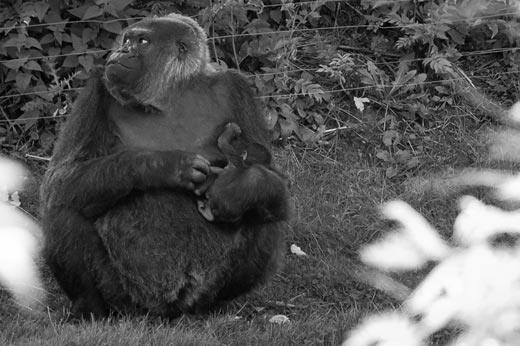 It was a very hot and sunny day, so mother and child were hiding in the shadow like most of the animals. For the large distance I needed a large shutter speed, even though I used my monopod. This is the reason that I decided for a unusual high ISO for this circumstances.
As the animals were too far away I decided to crop and make the image work in black and white. Not the best shot but my only chance to take one of a one week old gorilla baby as next weekend it would be 2 weeks old, duh.
Have a nice day ahead and keep your eyes open for some drawing stuff later today.
Related Posts