For a lot of Nikon shooters it is normal that they have a commander mode for their build-in flash. Canon has just two models who have this possibility and your Rebel isn't one of them.
Flashes like the Nissin Di622 for Canon just can be triggered with the build-in flash when used off-camera. None of the usual flash triggers you normally find on eBay are working for this model (at the time of writing this).
This creates a dilemma: if you want to use the flash off-camera and have to trigger it with your build-in flash, the last one will have influence on the lighting of your image.
Yes, this is what you don't want when flashing off-camera!
So we have to improvise and I show you how in this video. Below you see images with proving results and some more thoughts.
For the test I did a self portrait with the facial expression of someone who is very angry that the compatibility of the Nissin Di622 isn't as broad as an original Canon Flash. (I come back on this further below).
The off-camera flash was 45 degrees beside my face and as you can see the build-in flash had no influence on the light situation as it was tamed as shown in the video.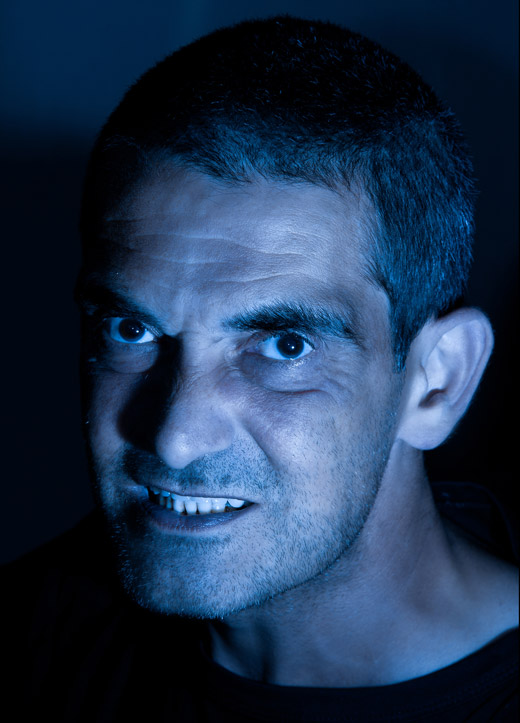 To make this even more clear I increased one of the eyes where you can see the very tiny and quite dimmed light of the built-in flash (A) and the reflection of the off-camera flash (B). I think you will agree with me that the build-in flash really doesn't have an impact on the photo.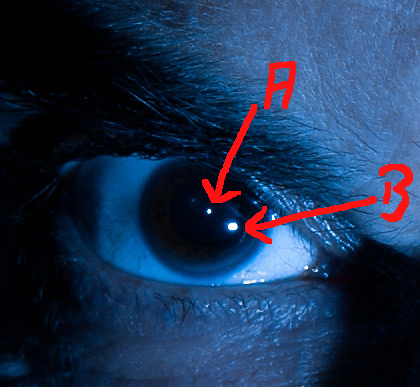 If you have doubts about this just might want to have a look at photo's taken with one of the Nikon models who have the commander option for their build-in flashes. You will always see a tiny light in the eyes coming from the flash that will not effect the photo.
At last I want to have some further thought especially on the Nissin Di622:
You probably think that the best thing to do is to get rid of this flash once you go to the next level with your gear and this flash if probably not compatible with your next camera.
The good news is that this flash can be triggered by the original Canon Flashes like the 480EX and 580EX. As this flashes can be triggered by the camera other than with a build-in flash. So you won't have to bother anymore about the commander mode. And as this flashes on their turn can trigger the Nissin, the Di622 will always be a perfect companion in slave mode.
So there is surly no reason to get rid of this flash. On the other hand it shows that buying cheaper in the beginning can be more expensive later on.
Related Posts