I totally fell in love with the Sigma 70-200mm f/2.8 EX DG HSM II Macro Zoom Lens that I purchased last month. So I thought it couldn't be a bad idea to join another weekend photo challenge by the Fro Jared Polin.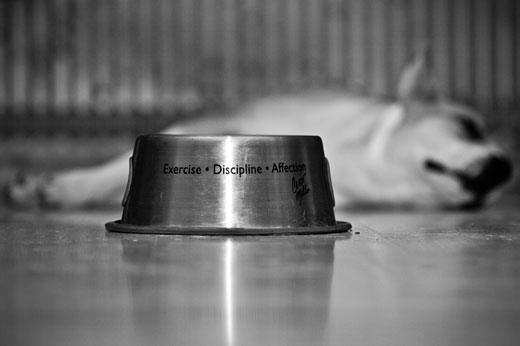 This time the theme was storage devices and while I was watching The Dog Whisperer on National Geographic Channel I got the idea to take a shot of Daisy the dogs favorite storage device.
As kind of an anniversary gift my neighbors wife bought this original Cesar Millan bowl for Daisy with the reminder Exercise, Discipline, Affection on it. A very nice thing to do and I'm very happy with this. And so is Daisy of course.
OK, whilst watching the show and having the idea for the shot I had to bring Daisy in a calm, submissive state what was quite easy. The I placed the bowl in front of here and laid down on the floor for the perspective.
The result is the shot above that I like. Of course I did several shots but this one is the winner. In fact I would have like to put the bowl more to the left side but I didn't want to distract Daisy. This could have resulted in not taking the picture at all as it's slightly more difficult to put a high energy dog into a certain position and stay this way than it is with a human model.
Here are the settings I used for this image:
Shutter Speed:1/200 second
Aperture:F/2.8
Focal Length:86 mm
ISO Speed:100
The flash was in almost straight direction to the ceiling with use of the bounce card in combination with the difuser.
You can click on the image for a larger version.
Related Posts