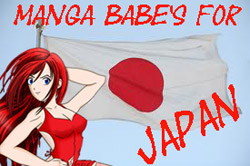 Not just in the case of catastrophes I regular think about what I could do or initiate to make a difference in somebody's life. Or at least do something to help when it is needed the most.
You probably recognize this when I say the very often the following thought is going through my mind: What the heck could I do? or I really don't see how I could help or solve a problem.
It's one thing to do some tutorials on a software product and helping the users of it with their problems. It is fun to do and the community is thankful for it.
Helping people who are really are in need, people who lost their homes, their families, all of their belongings, people left with their bare life as their only possession, is another piece of cake.
This is so much bigger than any blog, TV-show or whatever.
The feeling of not being able to help becomes even bigger at the moment when you think that you haven't enough to give. Since the earthquake and tsunami hit Japan last month I was thinking how I could do something something significant within the reach of my possibilities.
Honestly during past catastrophes I never had an idea how to help. Sometimes it is good to stop thinking about a problem to see the light. I think this is called an Eureka-moment, isn't it. I mean when you suddenly have the answer you were looking for.
This happened to me last night. I thought How can I possibly have a website that is at least related to Manga in some way and that does nothing for the victims in Japan?
Right, the answer came in the form of a question. Immediately the answer to that question came up by the idea to give away 100% of the net revenue of my eBook Draw Your Manga Babe The Fun, Quick And Easy Way!
This fund raising action will find place this weekend from April the 2nd (0:01) till April the 3rd (24:00 CET). In the video above I explain the reason for the time limit and everything you need to know.
I will come back on the results after the weekend and will thank everybody personally in a video that I will produce.
You can head over to the product page and make your donation-purchase (this is the way I like to call it) by clicking here or hit the add-to-cart-button below.
If you want to help without purchasing this eBook or you just want to donate more than the $9,98 you can do it right here at the Paypal site.
I want to thank Anthony Madden from Tokyo for attending me on the Paypal donation site.
Have a great weekend ahead,
Mario
Because of comment spam issues the comment section on this post will close after 30 days. So if you want to leave your 2 cents please do it right now.
Related Posts