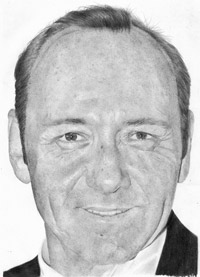 A little more than one year ago I showed you some of my off-line (or should I say un-digital) drawings in this and this article. OK, I just can call them by their names: pencil drawings.
Yes, your right. Pencils are these wooden things you use on paper if no computer with a drawing tablet is available.
With his course mentioned in the first article above Chrisopher Sia teaches people how to get fast results in portrait drawing. In as little as seven days to be precisely.
We can say what Tim Rugendyke is in the field of drawing and rendering cars, is Christopher Sia in the field of portrait drawing: an utterly devoted, enthusiastic and passionate teacher.
In fact he is such a passionate teacher that he forgot about himself and his own development for a period of one year because of the fact the he just focused on sharing all his knowledge with his students.
Luckily for Christopher and those who admire his art he got infected with the practice-makes-perfect-virus again. This happened during a convention where he met other pencil portrait artists. In his own words they were all better than him.
I know exactly how this feels. Jim Lee, David Finch, Dave Gibbons and too many other comic book artists to mention here are all better than me. For me this is rather motivating than frustrating as you always have other work to look at if you want to measure your own development. This way you can always see if you are on the right track to the next level.
Christopher started to practice again every single day since he joined the convention. One goal in mind: getting to the next level. To make it more tangible for himself he named it the real master level.
If you look at the pencil portrait of Kevin Spacey at the top of this article you'll understand what he means.
While Christopher was bringing himself to the higher levels in the art of pencil portrait drawing he didn't forget about his students. The new techniques he discovered had to be packed into a teachable format. Just like in his first course where he teaches how to achieve great results within 7 days he had to make sure that the student got involved in the process right from the start.
Of course reaching the real master level isn't something you'll learn in one week. The approximate time to invest in nurturing your skills will take you 2 to 3 month of dedicated practice. What is by the way still a pretty short amount of time.
Personally I think that it's important to keep one thing in mind: don't let anybody tell you that you can't achieve a certain skill level. You will be able to draw portraits like this: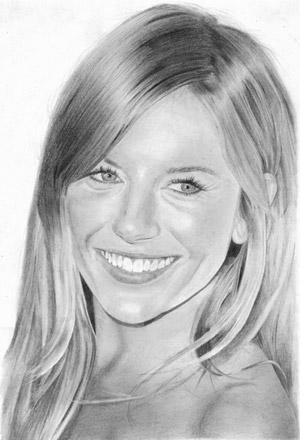 To achieve this Christopher Sia built his home study course on portrait mastery in a way that you will focus on mastering the depiction of every facial feature individually. In a high degree you will observe the tiniest details in every facial feature what brings you to the higher level and makes you a master of the detail.
Due to this facts Christopher breaks down his home study course into five in-depth lessons of realistic facial feature drawing.
In the first lessons you will learn how to draw an eye realistic. This involves techniques to overcome problems with the eyebrows. A new way of drawing the iris. The correct way to draw eyelashes. This lesson alone shows you on 127 illustrations and images step by step how to achieve the highest result. Every step is explained so that you really got involved into the whole process right from the start.
The second lesson will teach you how to draw a realistic nose. You know that eyes are very important features in a portrait drawing. So is the nose. Draw a portrait of any celebrity and fail drawing the nose correctly and nobody will recognize who's on that picture. This lesson comes with 163 illustrations that are explained step by step. You'll be surprised about the details you can bring into your drawing and let it look realistic.
Drawing a realistic mouth and teeth is in detailed explained step by step as well. You will learn to draw the complicated texture effect and how to render the mouth to give it a three dimensional look. The 61 illustrations and close-ups will guide you through the whole process.
Ears can be very tricky when it comes to realistic pencil portraits. Christopher will lower your learning curve on that by explaining what you need to know for better understanding of drawing ears in a realistic way. The 126 illustrations will guide you through this fourth step by step lesson.
One of the biggest struggles is drawing the hair. This is true not only for pencil portrait drawing but in other disciplines as well. Chris will make it much faster and easier for you to reach stunning results when it comes to drawing hair. With the two-strokes-method you will not only bring much more realism into the drawing of the hair but it will also save you a nice amount of time. This fifth lessons contains 128 illustrations, close-ups and images.
Besides the Home Study Course On Pencil Portrait Mastery Christopher will provide you also with additional bonuses as there are:
5 Lesson Process Maps
100 High Resolution Reference Pictures
12-Weeks Pencil Portrait Mastery Exercises
I can highly recommend Christopher Sia's drawing course materials for more than a year now (at the time of writing this).
If you want to bring your pencil portrait drawing to the real master level head over to homepage of this course by clicking here and give it a risk free shot.
Have fun drawing!
Because of comment spam issues the comment section on this post will close after 30 days. So if you want to leave your 2 cents please do it right now.
Related Posts