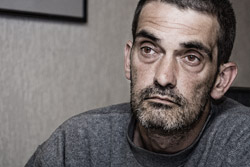 Sometimes it's good to take a little distance from creative projects you are working on.
Especially if you feel a lack of inspiration or motivation. When you come back to it with a fresh mind you will see that you can go on much faster. You will be much more productive.
For this reason I just took a month off of drawing. Even though it did harm to my Alexa rank I felt that I needed the distance.
And hey, why producing a pile of rubbish just to rank high. Besides this, everybody needs some kind of vacation so now and then.
A couple of weeks ago my friend Pedro told me that he was starting out with photography and in one way or the other his new hobby and enthusiasm was inspiring to me.
It got even more infectious when he attended me on Jared Polin's website Fro Knows Photo. This is by the way one of the best (if not the best) blogs I ever came across. Jared Polin and Greg Gazillo just doing everything the right way.
Most important and motivating is the fact that finally I understand my camera much better. And so does Pedro. So we decided to do some off-line activities and try to improve our photography capabilities together.
I can tell you that it's much more fun this way. The biggest laugh we had was when we came out of the 'Dome of Aachen' (yes, we drove over the borders to our German neighbors) without any usable result. I can tell you that you need a beer after such an experience.
One Sunday we just went to the center of our hometown Heerlen, where we took a couple of photographs of artistic sculptures of cute elephants. However in the end we dismissed them because the both of us decided that the images were quite boring and none of us would look at them ever again.
This is the reason that I don't show them here. Why should I show you pictures that I don't enjoy looking at myself.
Another object was the mirroring of the old church in the windows of the new buildings beside it. I'm not into architecture and my main interest when it comes to taking pictures are people. Portraits or candid shots are my favorites.
Anyway, the mentioned church mirroring photo's are one of those I like to look at from time to time, thus here they are. If you click on them you can see larger versions (in a better quality) over at my DeviantArt gallery.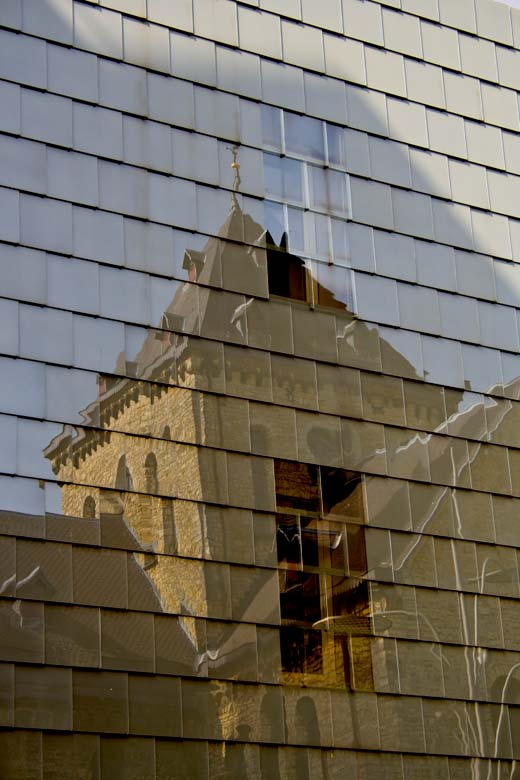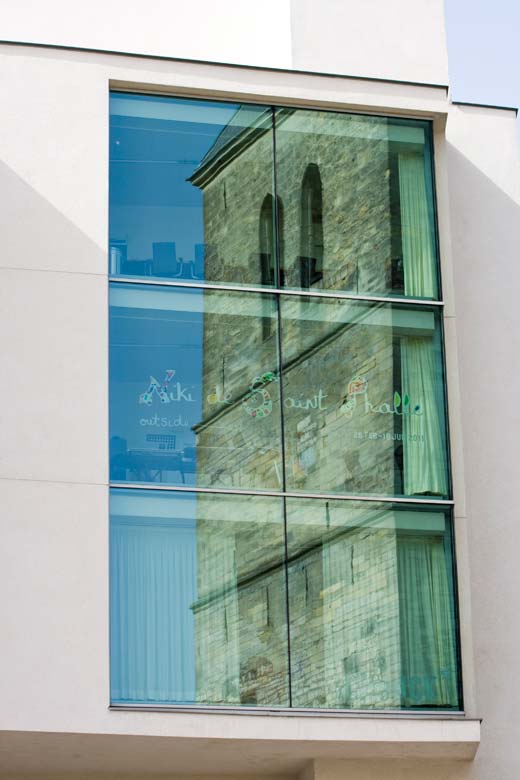 In the end I was really happy with the fact that I went to one of my closets and searched for the bag that contains my Canon EOS 400D. I hadn't used it for a very long time. Two years ago I wrote this article about why I stick to this camera.
The manual Vivitar flash I bought back in those days had died in the meantime.
This was quite frustrating as I couldn't accept the fact that something stopped working just because I'd put it on the shelf for a year or so. On the other hand I wasn't really a disaster as it really sucked to do all the manual settings on the flash over and over again just to find out that the pictures I took with it weren't what I wanted as a result.
But the death of this flash had an advantage: finally I had an alibi to purchase a TTL-flash. Of course you want to have a certain quality as you want to use this kind of gear for a long time. In the end cheap stuff can become very expensive if you have to replace it over and over again.
Though this would be a good reason to go for one of the original Canon TTL-flashes I had to keep in mind that my budget is limited. Besides this you always have to think about the fact that also the best gear can end up on a shelf for quite a while if you have many different interests and you switch often between your hobbies.
My decision went out for the Nissin Di622 Speedlight for Canon Digital SLR Cameras as it had some good reviews on Amazon and other places on the internet. As Amazon doesn't accepts Paypal I headed over to eBay and ordered it at the eBay store of one of my favorite sellers. I had some good luck as I could lay my hands on it for just $149,- and free shipping to the Netherlands.
It just took a week until it arrived and of course I was eager to try it out immediately. For the first time I could make a portrait of myself being satisfied with the lighting. Great! Never achieved this with the manual Vivitar flash.
One of the first images I took with my new flash is the one below. You can click on it for the larger version in higher quality over at DeviantArt.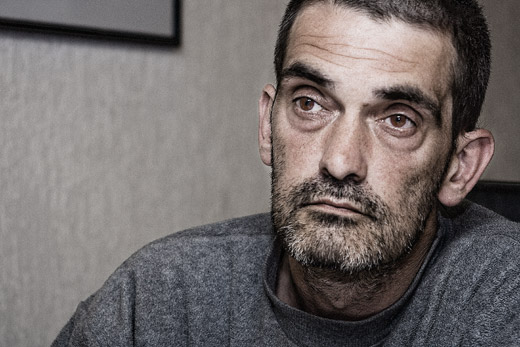 When I first loaded the RAW-file of this picture into Adobe Camera RAW I cursed because it wasn't sharp. At least the eyes weren't sharp. It had the focus on my Dumbo ears. Of course I've taken another one where my eyes where sharp but it hadn't the composition like the one above.
The first reaction was to delete it and go on with my life. But rather than just giving up on that picture I decided to tweak it. First I did the usual adjustments (like sharpening in this case) in Adobe Camera RAW and then opened it in Photoshop.
Here I tweaked the colors a little more by drawing with light and finally I added some monochromatic noise to it. This gives the image a kind of a movie poster look and has the advantage that it's not so obvious anymore that the eyes aren't sharp.
It's always a good idea not to give up on an image to easily. I kind of like the result.
Because of comment spam issues the comment section on this post will close after 30 days. So if you want to leave your 2 cents please do it right now.
Related Posts