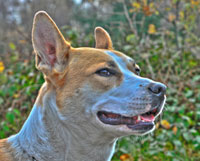 Since a couple of month my friend Pedro has discovered his passion for photography.
It's not that he seems to have the same ambitions as my dear friend Nathanael Gassett from Mississippi. At least Pedro says so. But when I see how he is diving deeper and deeper into it I really look forward to see his work a couple of month from now.
Last week Pedro and I talked about creating HDR images. As I always wanted to try this kind of art I grabbed a copy of Photomatix Pro and gave it a try.
In first instance I faced a little problem. I needed at least 3 photographs of the same subject with different exposures. My Canon camera has this feature implemented but lets face it: if you try to make a photograph of your dog, you don't really belief that it's standing still until you made a couple of photos, do you?
If you have a dog you know the situation better than anyone else. Often enough you will see after you've taken the picture that only the tail is on the image because Mr. or Mrs. Dog suddenly had something better to do than be your model and left the scene.
To solve this problem I took the following picture I made last year at the nature park that's just a couple of hundred meters from my front door.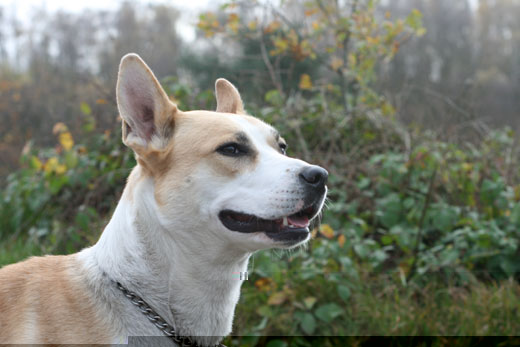 OK, the most beautiful dog on earth (I am very objective here) was captured but as I said earlier, I needed at least 3 different exposures. So what I did was starting up Photoshop and then via the file menu I chose 'Open As'.
Then I opened the photograph (what was a JPG-file) as Camera RAW. I changed the exposure, clicked the done button and saved the image under a new name. I repeated this step until I had 5 images with different exposures. Varying from way too light, over normal to way too dark.
Now I was ready to create a HDR image in Photomatix Pro. As it was the very first time ever I used this software I decided to follow the tutorial what comes with the program.
You have different methods to do the toning stuff with Photomatix Pro. I decided to use the detail enhancer mode. It gives the end result a little of a painting like look but I'm OK with that.
I hope I did not overdo it. Here is the result: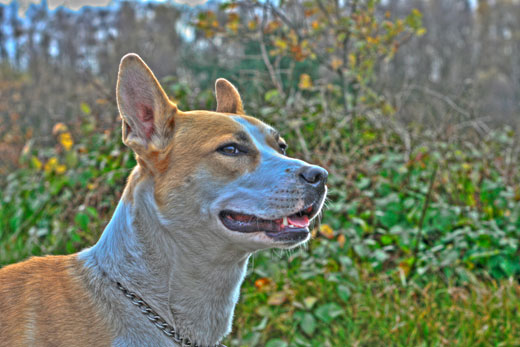 I guess this is a very nice first try. Even though the number of buttons and switches isn't overwhelming at all you can imagine that it's quite tempting to experiment with them. You can really achieve a huge load of different results from the same combination of photographs.
I'm sure to give Photomatix Pro a few more shots in the very near future.
Because of comment spam issues the comment section on this post will close after 30 days. So if you want to leave your 2 cents please do it right now.
Related Posts