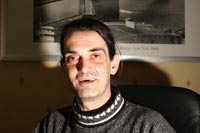 If you are a regular reader of this blog you may be a little surprised that I'm doing a Photoshop tutorial. However, a friend of mine just starts out using Photoshop and I'm always eager to help if I can to get you and my friends kick-started when it comes to creative hobbies or professions.
In this 3 minute video I'm correcting the direct flash light on the face in a portrait photography. It's a weird model but all the good models seemed to have a day off.
As this video is in HD it shouldn't be a problem at all to see exactly what I'm doing here.
It really doesn't matter what version of Photoshop you use to follow this tutorial and achieve at least the same result. All the versions available have the features described in this little tutorial.
Most important: have fun!
Because of comment spam issues the comment section on this post will close after 30 days. So if you want to leave your 2 cents please do it right now.
Related Posts