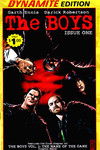 In the meantime you know that there are so many different ways to do your comic book coloring as there are comic book artists.
When I'm not producing tutorials myself I'm always on the prowl for other useful stuff to broaden my horizon and to have a different look on the subject.
Lately I found this very valuable video tutorials by Tony Avina the colorist of the comic book series The Boys.
After giving you a first look at the cut and gradient technique Tony shows you how he works in his preferred coloring style. He manages to teach you in an easy to follow way how to give depth to your artwork.
This three video's together count less than 25 minutes and I dare say that you learn at least as much as in some productions that take hours to watch.
For this reason and because I think these valuable tutorials deserve more eyeballs, just as you deserve more quality tutorials I put them into this article right here. Have fun watching and following Tony's steps.
As the video's are in HD you can easily follow each step described.
I hope you had fun watching and learned something. Even if you already developed your own style in comic book coloring it's always interesting to look over the shoulder of a professional and absorb his or her workflow.
Because of comment spam issues the comment section on this post will close after 30 days. So if you want to leave your 2 cents please do it right now.
Related Posts