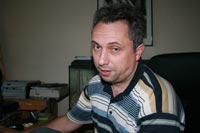 Just after I published the last article and video on this subject I got a reaction that I should use the healing brush tool for the purpose of cleaning up the model's skin.
Of course this reaction was right and I know this as I planned discussing the healing brush for the next (let's say this) tutorial.
Before I demonstrate you the healing brush tool in Photoshop I first show you another short and very effective work around. As you can see this comes in especially useful if you've beaten up your model seconds before the shooting.
You will by the way see the control panel of my screen recording software and ask yourself why I didn't cut this out. The reason is that every time I wanted to do this Camtasia crahsed and after 3 times I got this bored with it that I decided to leave it as it is. Therefore this video is 30 seconds longer than it should be.
As you could see, the healing brush does a very good job and is used just as the clone stamp tool. The main difference is that you don't have to change the blending mode to lighten or darken. Another difference is that you rather clone the texture of the skin here than the exact spot you choose as your sample area.
Because of comment spam issues the comment section on this post will close after 30 days. So if you want to leave your 2 cents please do it right now.
Related Posts