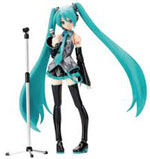 You can ask every teacher I ever had at school. They rarely saw me getting quiet without knowing something to say.
One of this rare moments was when I followed a link Miguel Guerra posted on his Facebook page a while ago.
The idea of a virtual singer projected as a hologram on stage immediately reminded me on the movie Simone with Al Pacino. But what I saw much more stunning than this movie.
First have a look for yourself by watching the video of The World Is Mine sung by Vocaloid Hatsune Miku.
The stunning thing here is that a software is singing this. In an absolute pure human voice. This was absolute new for me and I felt like an alien for a moment as I didn't hear of this before. (The name Hatsune Miku means First Sound Future in English by the way.) You know that you're behind if the video is already watched my millions of people.
Until that day if I heard the name Yamaha my first thought was the guitar that stands in the corner of my living room gathering dust. And of course other musical instruments. I know, they are also in the motorbike business but I never thought of this company as a software producer.
The further development of Hatsune Miku was done by Crypton Future Media after acquiring the Vocaloid 2 speech synthesis from Yamaha.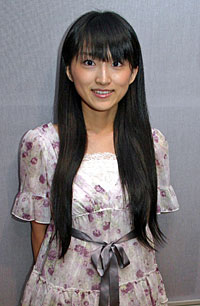 The voice of the Japanese voice actress Saki Fujita was sampled to become the voice for Vocaloid Hatsune Miku.
The only thing this software needs is a melody and a text. Isn't this amazing?
Of course there is a learning curve as with every software but after looking at a demo version of the software I can say that it's quite easy to become familiar with it.
This is by the way one of these moments where I have to give myself a tick on my fingers and just let go of the ideas that come up into my mind.
This is because sometimes it's overwhelming to see where all this new possibilities bring us? I had to think back on the time when I was 17 and played guitar and sang in a band. There is no doubt that you will agree with me that I can't sing anymore after years of smoking and abusing my vocal chords.
Isn't it amazing in this case that you just can take a singer out of a box, install it and let him/her do the work? At least once you told the software what to sing.
I had the creative idea to make music again and let the software sing the songs I wrote back in those days. The problem is that every hobby takes time and you just can't make everything you like a new hobby.
But as I know myself better I'm sure that it will not take long that I will purchase a copy of one of the English versions and experiment with it.
If you are as curious as I am I found the English translation of this song. If this text makes absolute no sense to you I can tell you that you are not alone.
The World Is Mine
The number one princess in the world
Know how to treat me that way, okay?
First thing, notice when I have a different hair style from usual
Second thing, be sure to go as far as looking down at my shoes properly, do I make myself clear?
Third thing, for every single world I say, reply with three words If you understand that there is nothing in my right hand, then do something!
I'm not really saying anything selfish
I want you to think from your heart that I'm cute
The number one princess in the world Realize that, hey, hey
Keeping me waiting is out of the question Who do you think I am?
Somehow I would already like to eat something sweet!
Go get it immediately!
My fault? Let's call it a cute mistake
Complaints are not permitted
Well? Are you clearly hearing what I am saying?
Come on Ah, and what about this?
A white horse, isn't that needless to say?
Come and take me away If you understand that,
take my hand and say "Princess"
I'm not really saying anything selfish
But you know, it's alright to scold me a little?
My very own prince in the world
Realize that, look, look Our hands are empty
Reticent and blunt prince
Come one, why! Just notice it soon
You definitely don't understand! Don't understand…
Shortcake with a strawberry placed on top
Pudding made with well-selected eggs
Everything, everything, I will hold myself back from it
Don't think that I'm a selfish girl
Even I will be able to do it if I try
You will regret this afterwards
It's natural! Even for me
The number one princess in the world
See me clearly okay, shall I go somewhere?
Suddenly I was held tightly, it was so abrupt, eh?
"It's dangerous, you'll be hit"
So saying that you turn away …
I think this person is dangerous though
If you already have some experience or even did some creative things with the Vocaloid software I'm curious to hear about it. Please let me know in the commend section below.
Because of comment spam issues the comment section on this post will close after 30 days. So if you want to leave your 2 cents please do it right now.
Related Posts