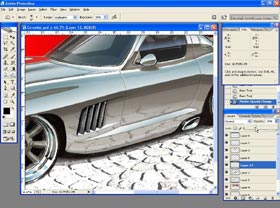 There are some names you always remember for some reason. For me it's most of the time a unusual, funny name or the name of a person who taught me something.
In the case of Tim Rugendyke all the reasons mentioned above are true.
It's nearly a year ago when I gave his drawing course on cars a try and came up with this article where I showed the drawing of a Jaguar XJ40 as the result. For me this result is proof that Tim's stuff just works.
Of course you don't expect anything else from a professional automotive designer who worked 15 years for companies like Ford and General Motors.
This time Tim produced a complete video course of more than 4,5 hours where he explains step by step how to get amazing results.
As a regular reader of my blog you already know that I'm very critical when it comes to step by step explanations. Especially when it comes to a complete course like this.
Have a look at the example in this video where Tim brought his hand drawn car to live just with Photoshop and a mouse. He didn't used a drawing tablet. So you don't even need to extent your drawing gear to get started with his course.
By using a selection tool and adjusting HUE saturation he easily added some cool graphic to one of the rendered cars in this video:
After I had the privilege to have a close look at Tim's video course I dare say that bringing your car drawing to the next level with this course would be an underestimation.
You will bring it up several levels. I highly recommend that you head over to Tim's site and read the the complete overview of all of the content of this video course by clicking here.
Have fun rendering your cars!
Because of comment spam issues the comment section on this post will close after 30 days. So if you want to leave your 2 cents please do it right now.
Related Posts