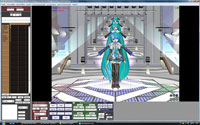 After watching the Hatsune Miku The World Is Mine video serveral times I couldn't resist to dive just a little bit deeper into this.
I really didn't want to do that as it's a kind of a disease I have that I get interested in too many things. So forgive me if I don't dive any further into this because even my days just have 24 hours, but if you need tutorial video's on this you can request them via the link in the sidebar.
Gosh, did I really write that? Anyway, you want to know where you can grab a free and English version of the Miku Miku Dance software.
You can click here to go to the download side. The advantage of this software is that you can run it right away without any install procedure. This means that it does not blow up your registry and if you delete it their will be nothing left.
Thus it will not slow down or mess up your computer or anything annoying like this.
I hope you have fun with it!
Because of comment spam issues the comment section on this post will close after 30 days. So if you want to leave your 2 cents please do it right now.
Related Posts