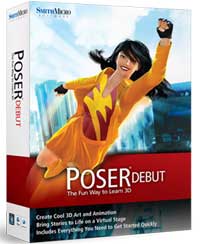 You know the situation: before you dive into the pool you want to get your toes wet to find out if swimming really is for you.
Most people who start out using Manga Studio getting their toes wet with the Debut version before deciding if the professional EX version is what they need.
I don't need to tell you that Smith Micro's possibility of upgrading without wasting money makes your decision easy. I already told you in this article.
Just yesterday Smith Micro's new baby was born: Poser Debut. Yes finally there is a Debut version of this groundbreaking 3D software as well. It was never that attractive to dive into this part of art as it is today.
You expect an introduction offer at this point and you are right. Instead of $49,99 it sells for $29,99. But it doesn't stop here.
If you create an account over at Smith Micro and login in you get another 15% off of the low price of $29,99 because you then can use this coupon code:
POSDEB15
Of course this offer has a deadline otherwise it wouldn't really be an offer, would it?. You can make use of it until February the 16th 2011 at midnight. The clock is ticking, so you have to be fast.
Learn more about Smith Micro's newest baby by clicking here.
Because of comment spam issues the comment section on this post will close after 30 days. So if you want to leave your 2 cents please do it right now.
Related Posts