I didn't finished Steve Firchow's DVD yet but I did finish the image I was creating whilst watching it. This is the first time I did the coloring of a drawing in Photoshop after I did the pencils and inking in Manga Studio.
I had a couple of reason to do this but before I talk about this let's have a look at the image I made for you dear visitor.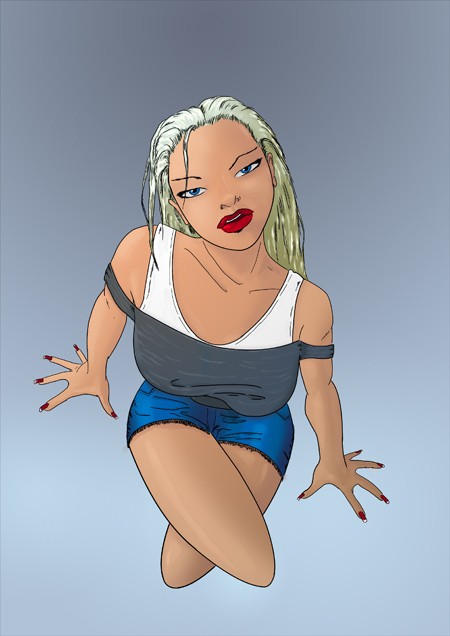 As this was an experiment at the same time you will forgive me that boring gradient background. It took me hours to follow along with the DVD and create something on my own at the same time.
Whilst following the instructions on the DVD and using the project files that come with it, I gave up half way and decided to watch and do something for myself. The result is that I two days later than I planned but finally I finished the piece. And this is what it's all about: shipping.
The reason that I purchased this Gnomon Workshop DVD and use Photoshop for coloring was pure curiosity. First I want to see and hear how a professional comic book artist is doing the coloring and second I wanted to see first hand if I can do more color magic in Photoshop than in Manga Studio.
The answer has to wait as I first have to do more my best then I'm used to when it comes to do the coloring in Manga Studio. Of course I know that there are certain things not available in Manga Stuido. But this is also the other way around. There is a reason that until now I used Photoshop for working on photographs and Manga Studio for working on comics.
When I finished watching the 3 hours of this DVD I will provide a review on it where I want to tell you in detail why I hate and love it. Yes, it didn't take long to get a hate-love-relationship with this product.
Until then I hope you enjoy the image and keep visiting my blog on a regular basis just as you did in 2010. If you are new here have a nice stay and enjoy some tutorials or other articles you like here. There are plenty.
Related Posts