In the last days of 2010 I was thinking about how can I thank you for all your visits and support here on Mario Live! After a short while I thought it would be nice and relevant to do this with a nice drawing.
Planning to do this and being on time for the 1th of January 2011 where two different things and so I start this new year with a screwed up deadline.
As you see I didn't even finish yet, so all I can show you of my Thank-You-Image is the ink version.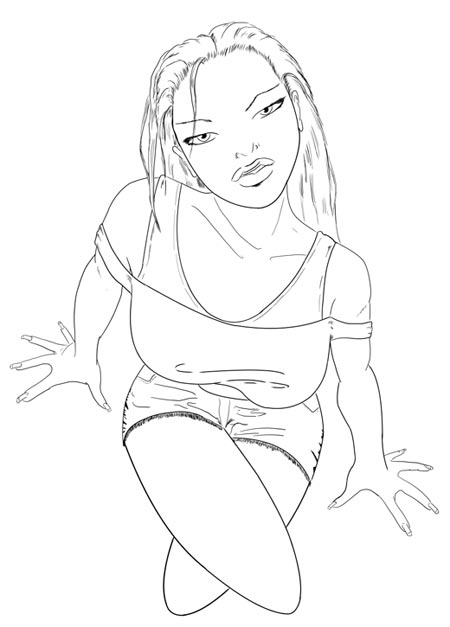 But at a second thought this isn't bad at all as I'm experimenting at this moment with a coloring course in Photoshop by Steve Firchow. I will review this one later this year and I can already say that it is a kind of a pain in the ass.
This western style girl is the result of a draw along I did with the material by Joe Benitez (the pencil guy behind some volumes of Witchblade and many more great artwork).
I don't know about you but I still have no New Years Resolutions as history keeps telling me that this isn't for me.
Anyway, different from last year I have some plans. What is are yours? I like to read about them in the comment section below!
My plans are clear and I'm already working my ass off to realize them though I didn't pick any dates where they have to be achieved. As long as they are realized in 2011 I'm happy.
I decided to become a comic artist. This is quite easy as I just have to snap my finger one day this year, look at my work and then decide Hey dude, you are a comic artist.
I want to improve the quality of my work over at Wall Street Hijack in a big way. I'm not yet satisfied but I'm glad that I decided to start with it anyway.
I want to organize one or more contests here on Mario Live! and I'm busy brainstorming about prices and how to organize everything. You could already help me by leaving suggestions in the comment section below. The question is simple: What do you want to win?
Please don't come up with this wishful thinking about a Ferrari or a Playboy Mansion. Keep it real.
I want to keep living in the moment as I learned last year from my adorable dog Daisy.
I think this is it for now. Maybe there are new things coming up in my mind I'm not yet aware about.
Oh yes, before I forget, in a short while I will post the full colored version of the girl above. I don't pick a date as I don't want to miss another deadline.
Have a fantastic, creative year ahead!
Related Posts