I'm not a fan of Star Wars nowadays but I was when the first Star Wars movie (what seemed to be episode 4) hit the silver screen.
I don't have to tell you that it was a total hype. At least if you are about the same age I don't have to. Start Wars was the topic of every conversation at the school yard back then. We were totally amazed by the special effects and of course every boy wanted to be Darth Vader or Luke Skywalker.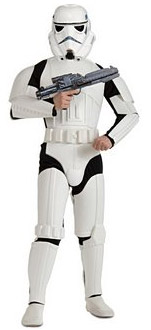 Not me. I was more impressed by the helmets. OK, Darth Vader had one bad ass helmet but I liked the white Stormtroopers and I always was jealous on their costumes when I saw them.
Every time when carnival came I tried to invent a possibility to create something like that for myself. I was sure that I would have the most impressive costume of them all.
I thought about things like paper-maché. Because with paper-maché you can create everything you want. With a little practice of course.
I have to admit that none of this plans every resulted in anything and saw daylight. Alas.
Just a couple of days ago I had one of this WTF-moments (W stands for 'why' and not 'what'. The rest stands for what you think it stands for). Translated into a more safe-for-children-way-sentence this was: Why didn't they produced this 30 years ago? When I wanted it so badly?
Of course I don't know if this kind of costumes where available in the US back then (this wouldn't surprise me) but I know for sure they weren't in Europe. At least not in the part of Europe where I come from. But honestly, I would've spend all of my allowance for such a costume if they would have exist in my younger years.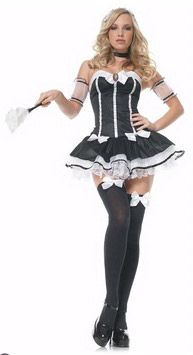 The reason that I found this costumes wasn't even that I was looking for them after all those years. No I was looking for a maid that would clean up my home.
You got me! Admittedly I was looking at Cosplay pictures as this can be a very enjoyable distraction whilst procrastinating things that are more important. But of course your time is not wasted if you study female beauty. It will always enhance your creativity and it can teach you a lot about anatomy for your next drawing.
The main reason for me (and this is not an alibi) was that I was curious where all this beautiful girls get their amazing costumes from. So I had to sacrifice myself and figure this out. I guess you can feel my pain.
If you're looking for costumes by any chance in this last weeks of this year you are probably interested in free shipping over at Costumes Inc. Valid until the 31th of December 2010 just as the 10% off on Christmas costumes.
Related Posts