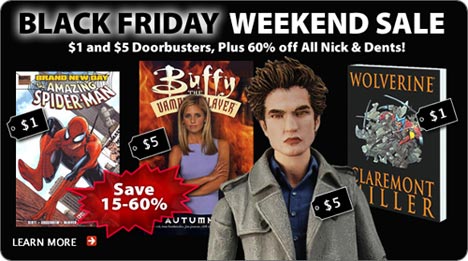 This Black Friday will be the first one I definitively dive into even though I'm living in the Netherlands. You see, when I thought about Balck Friday in the past (I didn't even know about it before I my dear Brooklyn sister Ilaria teached me about some typical American things) I just thought about overcrowded shopping malls. Alas, I'm not in the States on Black Friday so I have to enjoy it from out my lazy chair in front of my computer. I'm sure you can feel my pain.
Thanks to Things From Another World my passion is not just covered but also more than affordable in a very crazy way. Let's have a look at some of the overwhelming amount of offers they have this Black Friday.
When I discovered that my childhood here Spiderman is available for $1,- I immediately felt as if I'm beamed back into the past. When I was a boy a Spidey copy was something around the $2,- (at least here in Europe).
After I had a closer look at the page count (200!) I had to adjust my time warp feeling even more. No matter how you put it, this is near to nothing. It's a give away.
At this point I understand why TFAW call's this offer a doorbuster. It's a 86% saving during this Black Friday weekend. There are a lot of $1,- doorbusters (I couldn't find this word in my dictionary btw) and that means savings up to 97%. Spidy however is my favorite in this category.
In this issue A Brand New Day Peter Parker is returning to his roots what means that he's desperately in need for money to pay the rent and has to face some misfortunes and annoying villains again. 
Manga action is found in the $5 doorbuster category. What popped in my eye here was Yasuhiro Nightow's Anime Manga volume of Trigun.
Interesting fact here is that here are two mediums are melting together. All the artwork in this graphic novel is taken from the original frames of the TV animation show and enhanced with sound effects and dialogues from the teleplay.
This Black Friday you can add this to your collection and save 67% on the original price.
I always fall for graphic novels with attractive female characters in it. And if this goes hand in hand with a well written story line the fun of the experience is even better. So be it Sara Pazini from Witchblade or Anita Blake you'll always find both reasons to fill your book shelf with their stories.
In the case of Anita Blade, Laurell. K. Hamilton (New York Times bestselling author) makes sure that stories packed with mystery, action and romance keep you at the point of your lazy chair.
I could go on for ever with this list of 60% savings that is 73(!) pages long. I suggest you do the same as I do at this very moment and grab another coffee whilst shopping around in your online comic book store on this Black Friday.
Especially on a blog like this it would be like Thanksgiving without a turkey or Christmas without a tree if I wouldn't mention living legend Stan Lee.
Of course I don't mention him just because the sake of it. No matter if you are an aspiring or experienced comic book artist, you will be glad to hear that you can lay your hand on a limited edition (yes, this means that it is signed by Stan Lee himself) of Stan Lee's How To Draw Comics.
From producing concepts and character sketches to laying out the final page of art, the man with no peer – Stan Lee – is the ultimate guide to the world of creating comics. This Black Friday you save 15% on this limited edition. Click here for details.
I hope you have a lot of fun shopping with this Black Friday Weekend Sales over at Things From Another World. See you soon!
Related Posts