If you thought that there are no creative people at government agencies who want to win a free copy of Manga Studio during this contest you are WRONG!
Before we have a look at Steve's job related drawing I want to encourage you to help him win the contest if you like his artwork. You can simply do this by hitting the Facebook-Like-Button at the top or bottom of this post. The participant with the most likes wins the contest that ends on November 26th.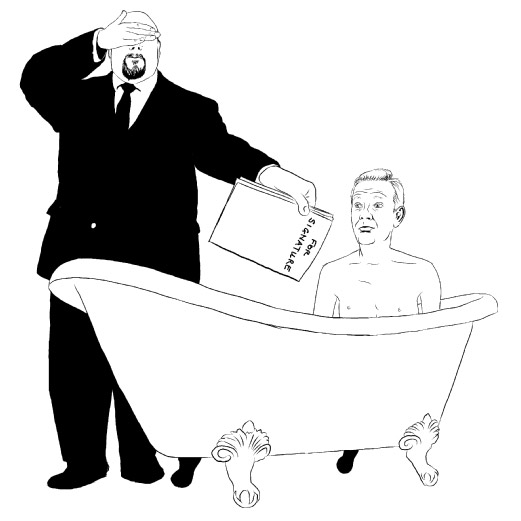 Steve:
I'm a middle-aged bald guy who works for a government agency. I've been producing an online comic to amuse my colleagues for about 2 years – it's called Policy Police. And I've been using Paint. Yes, *that* Paint. But recently I got a secondhand HP "convertible" laptop/tablet and about 3 weeks ago decided to graduate to Manga Studio Debut. I've been learning a lot over the last few weeks, so I'll just say "thank you" now for having helped me get started so quickly.
This particular drawing came about because a colleague of mine wants to liven up a dull document he's working on. He wanted to get over the point that if you always have to refer things to the Minister, it'll slow things down a lot. (The guy in the bath is supposed to be Michael Gove, the British Education Minister.) I got to thinking that the secret service guys who look after these people really have to put up with a lot. And most of it has nothing to do with protecting their charges from terrorism.
Anyway, government departments are pretty cowardly places, so it'll probably never end up in the offending document. It made my colleague laugh, though, and that's what counts.
I'm very glad with your participation, Steve! I wish you a lot of success.
Related Posts