Brenda is the creator of artwork #5 of this contest and in her participation is just for fun. Fun is what it's all about, isn't it. She already owns Manga Studio, so if she wins we'll have to make her happy in another way.
Before I let Brenda give you some more information and we have a look at her drawing I want to encourage you to help her win the contest if you like her artwork. You can simply do this by hitting the Facebook-Like-Button at the top or bottom of this post. The participant with the most likes wins the contest that ends on November 26th.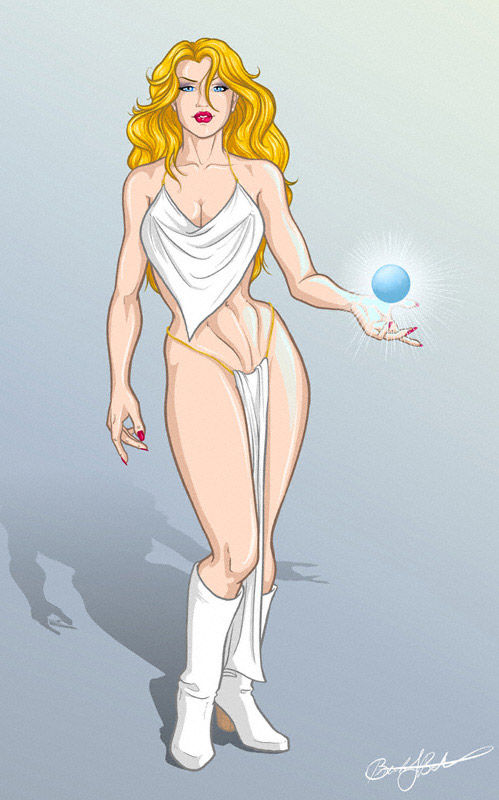 Brenda:
The subject is just a female figure, nothing special about it.  I don't draw too much "serious" stuff, it's only fun!  I usually draw men, so I thought I would be different and practice drawing a woman today. I wanted to give her a old fashioned 70's fantasy or sci-fi costume and hairstyle.
I had a lot of fun playing with Manga Studio colors.  If you have any questions about my creative process or how I did something, please ask me about it.  I love to answer questions.  I myself have lots of questions myself about this software and I'm going through the tutorials on this blog because while I use the software well, there is always room for improvement
About my setup: I use old equipment, but I'm very comfortable with it, so I keep things the way they are.
– Software: Manga Studio EX 4.0
– PC/System: Windows XP
– Tablet (right hand): Wacom Intuos 2 9×12 (This is a very old tablet.  I'm pretty sure it is one of the tablets Moses carried down from Mt. Sinai. It is a museum piece and these days I can only get it to work on Windows XP. Also: Never, ever buy a tablet this big.  It's a waste of money and it was a mistake to buy something so large.  I don't use the whole surface, only about a 6″ by 8″ area.)
– Tablet controller (left hand): Nostromo N52 (I customize Manga Studio hotkeys and then I program all my hotkeys into my Nostromo so that I can zoom in, zoom out, select tools, save, revert, and change brush size with my other hand so I do not have to switch to the keyboard while I draw. This makes the drawing process very fast and natural for me.)
A little bit about me: Female, age 40, draws comics for a hobby.  I have a full time day job which keeps me busy, so I don't draw as much as I'd like to.  I never went to art school, I just learned how to draw on the internet and from books. I work in 2D, mostly Manga Studio, and in 3D using a variety of software.  But my favorite software is definitely Manga Studio.  It is hands down the best tool to use if you like to create comic style art.
Thank you very much for participating Brenda. I wish you a lot of success with your artwork.
Related Posts