After watching my video here I got a request for a picture of Daisy. Right, this is the dog in the video if you were wondering. Of course this isn't surprising but I always feel good when I receive compliments on my dog, though I didn't create her. She's adorable all by herself.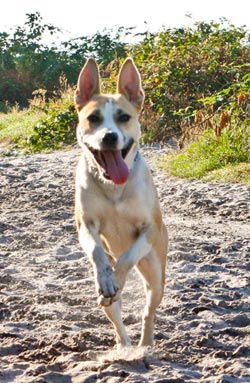 Here we go! This isn't the best photograph I've made of here but as it shows her in action I decided to pick this one to share with you.
The photo was taken two month ago in the nature park where I let her run every given day. It's very convenient for me to get there as I just have to cross the street. It would be a shame not to make use of this situation an let this energetic dog run for at least an hour a day.
She lives with me for a little more than 3 month now and she totally stole my heart. But not just mine. I dare say that she is the most popular dog in the neighborhood. Everybody is shouting her name when we're on the street. Even people and children I don't know.
The reason for this is that my neighbors wife is walking her if I'm on a job somewhere.
Here are some details if you are interested:
She is a mix of Akita Inu and Stafford. I always say that she has the haircut of a Stafford. She's one year old since August. She loves a lot to play with other dogs and she likes to take the role as a follower. Of course she has to drain her energy this is why I let her run on a daily basis, what is not just good for her but for me as well. While I walk through the nature and are amazed about her speed I get ideas for my blog and my other creative stuff.
But most of all I just enjoy being with my dog. There are two very important lessons I learned from her so far. And as she just has the possibility to teach me with her sole personality rather than words (she can't speak, indeed) this lessons were much more effective:
Never give up!
At least not after 25 seconds if she doesn't understand what I want her to do. This is also true for many other situations in life.
Live in the moment!
This is so often said and so obvious but since I have Daisy I really understand what this means.
Oh, did I mention that she sit down when I snap my fingers?
Enjoy your day!
Related Posts