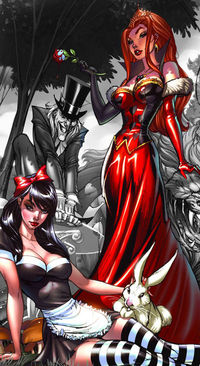 Today is the holiday when the Queen over here in the Netherlands drives through the country to honor all the owners and founders of cheese producing companies for their commitment. Part of the ritual will be, like every year, the ceremony of cheese counting in Gouda. The cheese with the most holes in it is the winner.
OK, I just made this up as in many of the Grimms ferry tales there is a King or Queen involved. But however I'm not that good in telling ferry tales as the Grimm Bros were. I didn't even start with Once Upon A Time….
Anyway, when I was a young boy and I mean really young. Long before my first kiss actually I liked ferry tales. I guess that was the same for you.
Even though you make sure not to loose the inner child, chances are big that your love for ferry tales has vanished. At least this was the case for me.
This was before I went to New York in June this year and visited shops like Forbidden Planet and Midtown Comics. As we don't have this large comic books stores over here in the Netherlands I really was overwhelmed at first and I was concerned if my luggage would be to heavy when I would take my plane back home.
The first comic books that hold my attention for hours (and I am not exaggerating) were the ones of Zenescope Entertainment. Zenescope is known for horror-tinged fables that showcase the darker side of classic childhood tales. But not just this, they make them sexy as well in an esthetic way in my opinion.
Have a look at the picture above and you know what I mean. They bring the good old ferry tales back into your adult life.
This October TFAW has the spotlight on Zenescope. During Zenescope month you can get to know their titles and creators. Have a preview on art and interviews.
If you live in the USA you can use the coupon code TALES for free domestic shipping. If you live outside the USA you will be charmed that you can get $10 off on shipping by using the coupon code CHARMED.
Related Posts