If you are not familiar with this and you think after reading this headline that my tattoo is on holiday without me, your wrong. So let me explain.
If we talk about holidays in a tattoo we mean that there are blank spots in it. Tattooists call them holidays and I think this is because the artist was somewhere else with his thoughts while doing this.
This can also happen to very experienced tattoo artist. Of course they will always give it a touch-up for free if it occurs. If you just start out tattooing I guess that it's very likely that it happens to you. At least it happened to the Hayabusa tattoo I did on my leg.
You may have read this and this article and watched the video's.
If you were waiting to see the final result of this adventure I have to apologize. It will take a little longer that I can provide a photograph of it. First the healing process has to be completed and then I will have to make a touch-up. As it's just one Kanji character I could also state that I do it all over again. Then when it's healed I will provide a picture of my Hayabusa tattoo.
In the meantime I want to show you the image that was used for the stencil of the tattoo and compare this version with the one you could find on the motorcycle that is named after the bird (Hayabusa is Japanese for Peregrine Falcon).
This is the is calligraphy version of the Kanji I used for my tattoo: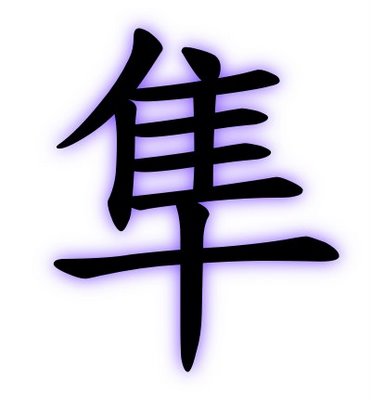 The version on the Suzuki Hayabusa looks looks this: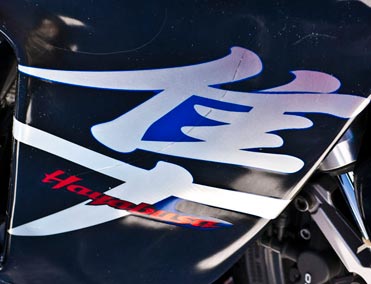 The main difference here is that the second one is kind of cursive and that it makes the impression that it's fast painted with a brush. The middle vertical line is (in both cases) interrupted. In the Suzuki-version more than in the calligraphy version above. This also suggests speed.
Maybe I did mention it earlier: I'm not a biker and I honestly wouldn't dare to ride a motorcycle like this (if any). You maybe want to watch the following video to understand why:
More related articles:
How To Avoid A Total Failure If You Consider A Chinese Tattoo
Why You Can't Translate Your Initials Into Chinese For Your Tattoo
How To Create A Custom Tattoo If You Can't Draw It Yourself And You Know Nobody Who Can Do It For You
Related Posts