Drawing your characters is the fun part of your adventure as a comic book creator. Of course this is a complex topic and it will be challenging from time to time.
Sooner or later when you are drawing your comic book or even an epic graphic novel you will be faced with another challenge: drawing cars. No matter how you look at it, there is no way out. At least if your story takes place in the real world.
As it is a challenge for me as well, I wanted to know if Tim Rugendyke really can teach how to draw cars within 30 minutes. I gave it a shot and because I wanted to be pedantic this time, I've set a stopwatch to 30 minutes. Determined to stop whether my work is finished or not.
Here is the result: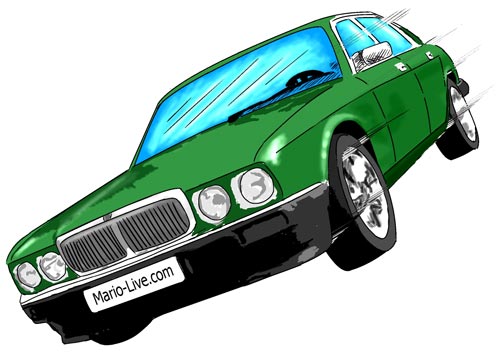 I decided to draw a Jaguar XJ40 as I owned one in the past and I just loved that car. This was an additional challenge because I could have started with the same models Tim is drawing in his course to make it easier. Soon I discovered that this isn't really necessary as Tim is a great teacher.
Besides this, I always think if you are drawing your own stuff whilst following a course you keep the feeling of being creative by yourself and it keeps fun until the end.
The Jaguar above was finished within 28 minutes and I think that it is pretty good for a very first attempt. Of course I could have put more details into it but there are two reasons why I didn't do it:
It would have taken slightly longer than the 30 minutes.
I wanted it to look comic like, what is by the way the reason that I added some speed lines.
Tim Rugendyke's course covers every aspect of designing cars in detail. His experience is founded on his work (15 years) as automotive designer for Ford and General Motors. This makes him a incredible source for this craft.
You may want to know in what cases the investment of $29,- (within 60 days you get a complete refund if not 100% satisfied) is worth your time and effort.
You should get your copy if you
…want to drastically lower the learning curve of drawing cars.
…want to design your own car models and accessories.
…are in need to make your comic or graphic novel more realistic and don't want to lose too much time on research. So you can put your focus back on your characters again faster.
…want to look over the shoulder of a professional designer and absorb the professional approach.
For much more details about his course I suggest you have a look for yourself at Tim's page.
I hope you'll have fun with all your drawing adventures!
Related Posts