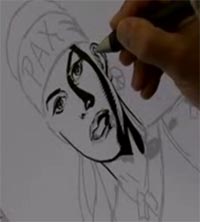 Since I attended Dave Gibbons webinar on Manga Studio two weeks ago I always use a blue pencil for my first sketch. Though it's a very comfortable thing to do, I don't know why I started doing that. Was it because I saw a professional doing it? As I missed out his explanation for this because I had trouble with the audio connection on my end, I'm glad that he is explaining it again in the following series of videos.
It's always good to know why you do things. Isn't it?
While I'm still convinced that you shouldn't invest a huge amount of money in your gear right from the start (I discussed this here) I have to admit that I became a little jealous at Dave's Wacom Cintiq tablet.
Watching the video above was where my jealousy started. I liked the story about his shocking moment when he thought that he had smudged everything. And yes, his British accent rocks.
In the video above is where Manga Studio comes into play. Finally I got the answer to my question why I use the blue pencil for the first sketch in the first place. But the real reason I do this is that I can more distinguish the blue grids I make from the original drawing that I create on a second sketch layer in the next step of the creation process.
You see that the help-lines or the grid for the first rough visualization of your drawing can be made within 3 minutes if you have some practice. I guess it could be 10 minutes if you have no experience with this. Consider this if you skip this step next time as correcting everything afterward because you leave this step out can take you hours.
Just like I'm used to do it Dave lowers the opacity of the layer when he creates a new one and goes to the next step of his drawing. This way you make sure not to get confused and leave out some areas on the second layer. Especially if you use the same color for it like Dave Gibbons does. I always prefer to draw the second sketch layer with a black pencil.
You see that Dave controls the menu of Manga Studio with his pen on the Wacom Cintiq. I also tend to do this on my tiny pen tablet. From time to time I however can't resist the temptation to do some of these operations with the good old mouse.
Of course it is very helpful that you can turn around the whole tablet and that it stays stable. Keep in mind that if you use a Wacom Bamboo you still have the possibility to turn around your drawing in every angle you want with the function in Manga Studio itself. It's a piece of cake.
Correcting your drawing when you use the traditional materials can be a pain in the (fill in the blanks). Once again you see how freeing it is to do it the digital way.
I can't emphasize enough how great the pressure sensitivity of the Wacom pen tablets is. You have this advantage on everyone of them, be it a Bamboo or a Cintiq. It makes the feeling whilst drawing very natural, just as if you are working in the traditional way. Another advantage you have with the combination of one of those tablets and Manga Studio is that you can easily change the width of a line if you feel that you used too much pressure. I explained that feature in detail here.
I always use a vector layer as my inking layer, other than Dave Gibbons does. The disadvantage of doing it my way is that you are not able to use the fill tool to blacken big areas fast. You have to do it by hand and it takes more time.
After seeing this professional at work I have to reconsider my own working process when it comes to the final inking, I guess. I will give it a shot in my next drawing.
I hope you enjoyed this and have fun with your own drawings!
Related Posts