A couple of days ago a Youtube user asked me if I could help him using text balloons in Manga Studio Debut. I was very happy to see that my post on this topic solved his starting problem and lowered the learning curve for him, as it proofs for me the value I try to deliver with this blogs and the videos.
For my readers who were waiting for a new drawing I just doodled this girl. I was playing around with the possibility to bring the joint doll into a perspective I didn't used so far. I find the result pretty funny.
Let's take a look before I briefly describe what I did this time. I hope you enjoy it.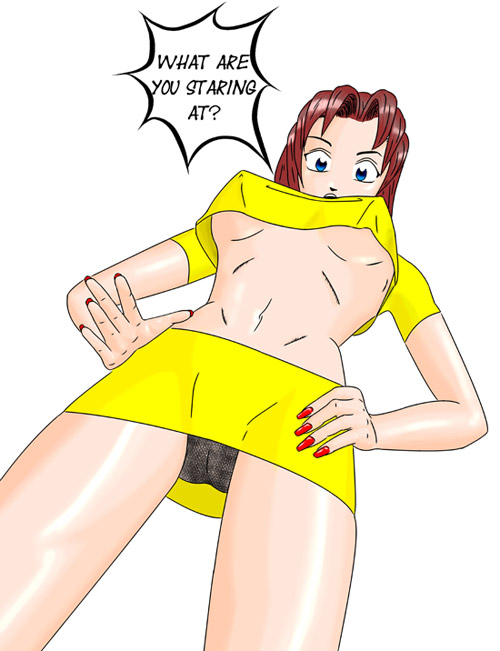 As I said, I just was doodling around a little. Of course you can achieve the same result with the Debut version.
Here are the steps I took using Manga Studio EX 4:
I imported the joint doll as an 3D object. You also can draw a grid by the way, as described in the books I talk about in this article. However, Manga Studio makes life a little more easy with the 3D objects. An example of using a 3D object to draw a hand you can find in this article.
I thought about the facial expression of the girl (what should be a little surprised) while I made the first sketch on the sketch layer.
During the inking process I was a little surprised by myself of how little lines sometimes are necessary to get the desired result. This takes not away that I always feel the need to improve my inking. You see, sometimes you just feel something is still missing and you can't describe what it is. Maybe I express this a little awkward but I just can't describe it.
And by the way: don't let thoughts like this withhold you from starting with your artwork.
Before I started with the coloring process I made sure that I had a selection layer for every single part of the drawing. This would take some time beforehand, what paid itself back once I would make a mistake or would decide to color separate parts in another way. A step by step introduction to this I wrote here.
For the final coloring process I decided to keep it quite simple. I didn't want to overuse the burn tool.
So I kept it easy:
I used a maximum of three different colors (skin for example) and blended the edges between them with the color blender tool. In the end I've put some highlights here and there with the dodge tool.
I hope you find this explanation useful. If you have any questions or if you want to see a (video)tutorial on a specific topic here, please don't hesitate to drop me a message via the contact form. You also can easily subscribe to my newsletter in the sidebar or right here.
Related Posts