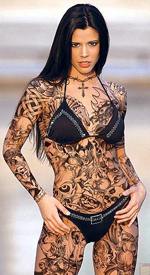 During one of our weekly meetings with some friends at Rene's place (our host since 15 years, at the time of writing) last summer we had this conversation about tattoos. Better said about tattoo art. Earlier that day I'd stumbled around on the web aimlessly and enjoyed some very beautiful photographs of models with great tattoo artwork.
As it was warm, Rene showed more skin than usual and made me think of my discoveries that day. At one point we studied the tattoos we've got and came to the conclusion that Rene's tattoos, though well done during one of his Amsterdam vacations, are a collection of images that don't have any connection with each other.
I wanted to know why he didn't decide to make it a whole. You know what I mean. You can get a tattoo and another one and let them create a certain harmony. Rene had chosen to get a barbwire here, a devil there, Stephen King's clown Pennywise on another spot, a spider (including a web) on one side of his back and so on. Some others on his chest.
None of this tattoos is visible if he wears a shirt with short sleeves. Rene wants to avoid confrontations with his employer. He has to represent the company as he has contacts with clients. Understandable, though it shows how old fashioned the world can be.
I told him that his tattoos look very nice and at the same time he has some kind of chaos on his skin. Thus totally different than this beautiful young lady here, who wouldn't be less beautiful if she wasn't inked at all: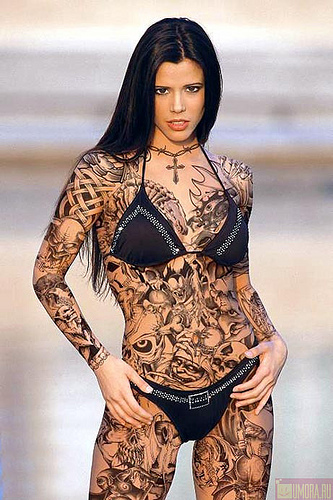 He answered that if one hasn't the ability to design his own tattoo he has to do it with something from the catalogues that are available in every tattoo parlor.
Rene got a point here but I think that Rene's choice was taken impulsive. The thought of Let's get a tattoo now I'm in Amsterdam in his mind. Otherwise he would have asked me to design something for him that matches his personality. I'm quite sure about that. Even though it would be difficult to define my friend in a small drawing.
I don't think that there is nothing wrong with tattoo's from a catalogue. Rene is certainly right when he says that not everybody has the artistic abilities for designing a tattoo.
The only advise I keep giving is don't get a tattoo on behalf of a tattoo. You get this ink on your body for the rest of your life, so think before you ink.
I think the most common custom made tattoos nowadays are Chinese or Japanese character tattoos and I wrote about it in this article. I recommend reading this article if you want to avoid failures. You can also think about a Chinese character tattoo combined with other items.
A while back I had another discussion about the subject and a workmate asked me to take a look at a software called Tattoo Director. I visited the vendors website and (try to) embed their video right here. Forgive me when I say that I find it kind of funny.
I had to laugh when AJ stated that you can move the components from the application around and I found his voice kind of cool. But of course I gave it a serious look.
The first thing I asked myself was What can this program do what you can't do with any other graphic application?
The answer was pretty simple: Nothing. I really don't see something you couldn't do with this software that you couldn't do with any other graphic software. Be it Photoshop, Illustrator, Corel Draw, Manga Studio or however you name it. I would definitely use one of this programs (if at all) to draw my own stencil outline.
A pro would be the price. For $30,- you get a graphic program that can edit and combine different tattoo designs. It seems to come with a bunch of different designs that you can color and/or combine.
OK, let's think a little further and please correct me if I'm wrong. Do you need to do the coloring within the software? In my opinion you want to print out a stencil outline. The whole coloring process is done during the process of tattooing. Thus, in fact the coloring would be a waste of time no matter what software you use for this purpose. The only thing I could imagine is showing a colored version of the design to the tattoo artist who will tattoo you.
Isn't it just the same as having one of this catalogues on your computer? The vendor says that there will be added more graphics than the ones the software comes with. The only thing that differs from selecting a motive from a catalog is that you can combine more different tattoo designs into one. This takes a little bit the character of a standard design out of it. Doesn't it?
If you can't design a tattoo by yourself it is certainly more expensive to have it done by somebody else than buying this software. Of course you can use the software over and over again. In my opinion the results you get from the software are not really as unique as you would wish. But OK, if you create multiple designs with it, it will pay off.
It's not very easy to give an advice here. 
Would I buy it?
No.
Would I recommend it to a friend?
No, I would offer to design something for him or her. 
This is all I can say. But as there is a hassle free money back guarantee you can try.
If you want a design that is most likely not inked on somebody else's body, you can't do it yourself and you don't know anybody who can design something for you, you can give Tattoo Director a shot.  
Have a nice day!
Related Posts