When I wrote my little tutorial on changing the line width in Manga Studio I told you that I would come back on Lynn in 2010.
Before I go any further please take a look at this first draft I made of her: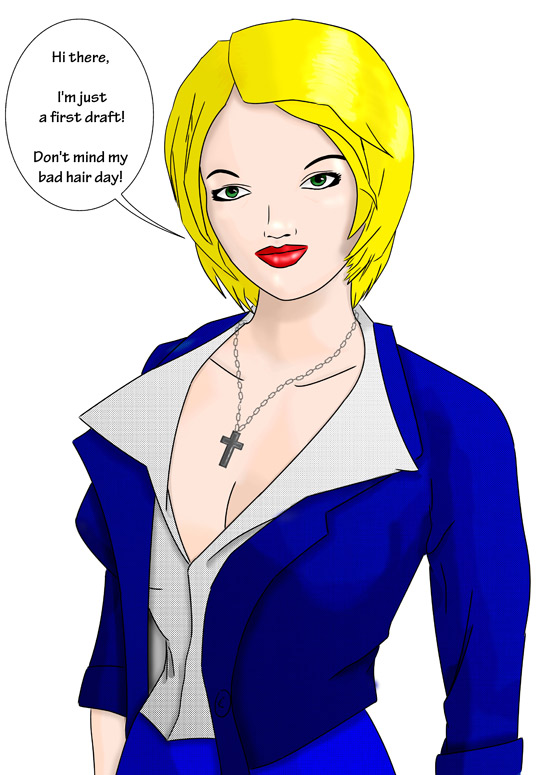 Since a couple of month now I think about how the characters of my first novel 'Het Orderboek' would look like if I would decide to make a graphic novel of it.
Before you even think about adapting a 316 page novel into a graphic one, there are tons of considerations you have to make.
As there are:
What style would I use to draw the characters in? Would I prefer the American style, the Manga or Japanese style? Would I think about a style where every pane looks like a aquarelle painting?
This is all very important as you can't switch from one style to the other during the project without confusing your audience. To have a great time whilst creating tons of drawings you will need to decide what style you would like to use from the begin to the end. It's not easy to make a decision on this.
In my case the novel has subplots and characters that would not make it to the silver screen if the book would be adapted to a movie. The same thing is true when it comes to adapting it to a graphic novel. This is not easy to decide as well, because as a writer you normally have some problems with cutting out some of your characters and subplots.
As I don't like to keep things unfinished, I would have to ask myself if I am able to keep going until the end. There are many hours of work involved. But I think if the passion is big enough, the fun part on the whole thing will keep me going. Nonetheless this is a point to consider as well. It also depends on you, my dear reader.
With all this considerations in mind I was doodling a little in Manga Studio EX 4 what would make this my 4th result in Manga Studio. As I said it's a very first draft and I really understand that I have to focus my practice on the hair part. You see, everything without a certain WOW-factor wouldn't be acceptable. And you better start adding this right from the start.
So, who is Lynn? Lynn is the secretary of the CEO Martin Farlain of the fictional steel company P&S Steel in Detroit. She has a necklace with a cross that is hanging towards her most convincing arguments. She is a little arrogant because of her position in the company and I hope that this first draft is expressing this a little. However, after work she is just as breakable as everyone of us.
She is not a main character but she is important enough for the story not to be cancelled by film or graphic novel makers.
For those of you who don't know yet anything about my first book what is only available in the Dutch language, here is the English translation of the back flap of the book:
THE ORDER BOOK
Jack Acers is the head of the IT-department at P&S Steel in Detroit. Quite a good job, if there wheren't his frustrations: he feels underpaid, loses his savings on the stock market and he is in love with his much younger trainee Amber. As if this isn't enough, his boss, Martin Farlain, is refusing him a pay-rise.
One day Jack receives a telephone call from his mental mentor Jorgo, which he hadn't contact with in years. His friend is meanwhile successful active on Wall Street. During a visit Jorgo explains Jack how easy it is to earn his lost savings back. Jack is more then lucky when he notices that with Jorgo's plan also Martin Farlain can be punished.
The two friends manipulate the order book of the stock market and the flow off money begins. Finally Jack can afford all the luxury he think he deserves. Also his love-life takes a positive turn. But when Jack in the early morning of September 20 2003 awakes on a beach, the tide is turning. Jack is just one mouse-click far off from hell.
Thank you very much for all your support you showed me already in this first days of the year. For those of you who are drawing digital themselves: at this moment I thinking about writing a post/tutorial that will solve most of your problems with selection tools. Make sure to come back soon.
Related articles:
This Would Be Jenny Created In Manga Studio
Lynn's Makeover In Manga Studio
Related Posts