After creating the comic version of two female characters of my novel (Het Orderboek) I thought it was time to create at least a first draft of the male protagonist: Jack Acers.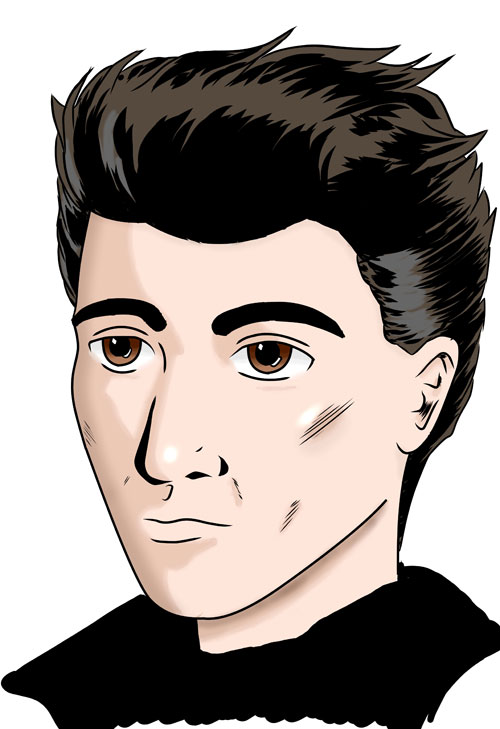 Jack Acers is the frustrated head of the IT-departement of P&S Steel in Detroit. In the article on the first version of Lynn you'll find a description of the novel.
As always there is much to improve in my opinion. Though it seems that Jack wasn't able to find his comb this morning, I'm more satisfied with the hair this time. If you take a look at the makeover of Lynn (articles listed beneath), you will understand that I still not happy with her hair, as I took the original hair cut of the person I took as a role model. It's just not comic like enough. In other words, there will be another makeover.
While I was drawing Jack I was aware of the flow state you come in when you are busy with something creative. Whatever hobby or profession you have, it is very important to enjoy this. It just makes your day less like a LSD-trip if you enjoy something. Doesn't it?
As always I made this first version with Manga Studio EX 4 in the same way I described in the little tutorials I've wrote for you. Mentioning this, I think there is much more to share with you about this program and I will do this in future articles here on Mario Live.
For the chance that I really consider adapting my book to a graphic novel, I will design all the characters into this comic versions. So be prepared for more This Would Be… articles in the upcoming days or weeks.
Have a nice day ahead and happy drawing (if that's your hobby)!
Related articles:
This Would Be Lynn Created In Manga Studio
Lynn's Makeover In Manga Studio
This Would Be Jenny Created In Manga Studio
How You Use These Cool Selection Features In Manga Studio
How You Arrange Your Layers In Manga Studio
How You Change The Line Width In Manga Studio
Related Posts