Another day doodling a little and trying the tools of Manga Studio EX 4. Before I explain what I did, let's take a look at the result: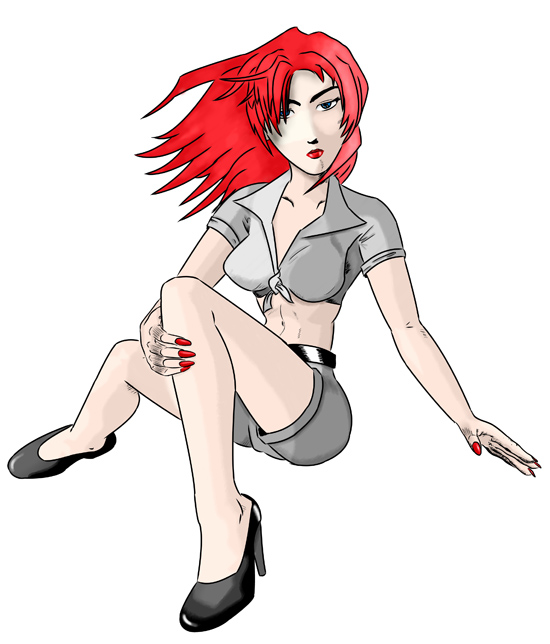 This time made use of the possibility to import 3D-objects. In the case of this friendly young lady above, I used one of this dolls that in real life are made of wood with this enormous joints. In Manga Stuido EX 4 you have them in various shapes in virtual form. You can bend them and turn them in every thinkable way. As far as I know you don't have them in Manga Studio Debut 4.
Did you by the way notice that there are a bunch of videos out there where the title says tutorial and when you watch them there is no explanation at all? You just see someone draw and listen to a music. To this guys I want to say: Don't call it a tutorial. A tutorial explains what happening!
Anyway, this is no tutorial either, but I want to say what I did:
Importing the joint doll and bend her into the right shape. Nice pose, isn't it?
Then I made a raster layer above it and renamed it to sketch. This is not mandatory, but I like to know what layer I use for which step. In this case I made all the pencil work on it.
I lowered the opacity of the pencil layer after this step was done and then created a vector layer (because you don't lose quality if you resize something) and renamed it to ink. You guess it right. Here is the ink work done.
I hid the sketch layer (you see, this makes it even easier to follow) and then I created a color layer under the ink layer. I gave this new layer the innovative name color. Here I made the coloring. I did not make this a vector layer because you just  have flat colors then. There is no possibility of smoothing things. Don't make the mistake and create any other layer than a raster layer with 32-bit color.
OK, I used the dogde-, burn- en color blend tools to get the effects you see above. There is much more to try and I think this is a nice result for some doodling.
Just like last time this is not really Manga and that wasn't my intention. It may even look a little awkward but the goal was still to learn to handle the pen tablet, what goes easier from drawing to drawing and try the tools. Next time I try to produce some real work.
I hope you enjoyed this example and I look forward to your next visit to my blog.
Have a nice day ahead!
Related Posts