Tomorrow is the day I was afraid of thirteen years ago. I knew that it would come and it nearly was the reason to decide against taking a pet. The reason to decide otherwise was that I always said that you shouldn't mourn for the loss, but be grateful for the time you've had. However logical that sounds, it's kind of weird and it feels inconvenient knowing that her day has come while she is downstairs
eating one of her last meals. I feel kind of guilty when she rubs her head against my hand when I pet her. Maybe it's because I know that she is going to die tomorrow and she don't. On the picture below you see a picture of my cat Upke. It was taken a year ago. She already had cancer then but she was wild and everything what a cat is supposed to be. So I decided not to sleep her in. Now it's unavoidable.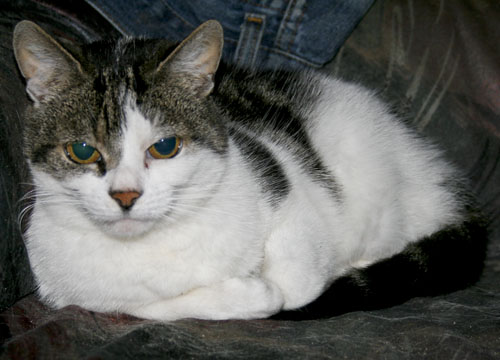 First I thought about taking a final picture of her. But I can't do this because this picture would always remember me on what is going to happen tomorrow. Gosh, I don't like tomorrow. I can remember losing her sister Dupke 4 years ago. It was very sad.
Maybe it would be much easier if she was the cat of somebody else. But it's not that easy. She's the longest relationship I ever had, though it was like we lived along each other under the same roof. Sometimes it was annoying. She and her sister damaged things so now and then. The most expensive damage was when once one of them vomited into my television. In the end it didn't matter.
I can't remember who gave the advice not to write about your pet on your blog. Anyway I want to make Upke a part of the heart of this blog as she is a part of my heart. Maybe this all sounds like nonsense, but in the end nothing matters, except love.
I love you, Upke.
Bless you all!
Mario
Related Posts