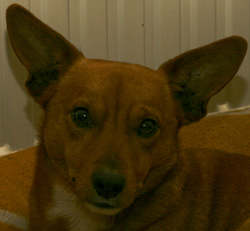 Wednesday Spikey has been attacked by a big dog that broke through the fence, when he just was walking allong the backyards in the neighborhood at Simone's place. Even when Simone took Spikey in her arms, the dog kept attacking Spikey.
Together with the owner of the much to agressive and annoying dog she drove to the vet, where Spikey had to be sewed and kept under narcoses for several hours. The vet said that it was pure luck that Spikey survived this attack. The deep wound was one millimeter from a vital vain.
I was very upset and angry about her neighbor and of course shocked when she called me in tears. Though she told me that Spikey may not walk around the neighborhood without a leash and she thinks it was her fault as well (she is sharing the vets cost with the owner of the other dog) because she had let him walk without a leash, I think that there is no way to blame her. It's not because Simone is my girlfriend, but because I see it objective:
Spikey would have been attacked by this beast even if he would have walked on the leash. The fact that the other dog kept attacking when Simone had Spikey in her arms proofs this. Thank god, she hasn't been bitten.
If the neighbor has to compensate something by keeping two large aggressive dogs in a small house, it's his choice. However, he has to make sure that the dogs cannot escape out of his fucking backyard. In the same way the dog could have attacked (and maybe killed) a small child (there are many in this neighborhood) instead of Spikey.
I would have call the cops and claimed the complete vets cost instead of sharing.
Am I the crazy one here? What do you think?
Related Posts