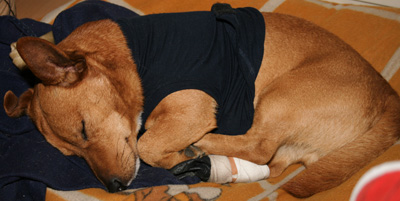 For those of you who are curious how Spikey is doing after the attack last week, here's a brief update: As you see in the picture he needs still to wear that jacket. His wound on the right shoulder is getting better but he is scratching it because it's itchy. For that reason Simone was so inventive to bandage his right rear leg (I don't know if you describe it like that, it feels like talking about a car) so he will not open the wound again.
Two days ago he suddenly seemed very tired and slow. He was also shaking and had cold ears and a warm forehead (for whatever part of his head that may be). We were a little worried about that, so Simone decided to sleep downstairs to comfort him. As it looks now he will be OK in a couple of days.
I guess Mr. Spikey is very grateful for your interest and sympathy and says hello to all of you.
He's such a good friend, even when he barks at me.
Related Posts